In today's era of Instagram stories, live video streaming, and other forms of visual content buzzing over social media, you might wonder if a blog is still relevant. Back then, nothing has enabled the democratic direction of sharing opinions as much as the upsurge of blogging. Since the internet has become more prevalent, it is now possible for anybody to connect with the whole world through various platforms.
The spectacular rise of social media, especially YouTube, Facebook, and Twitter may help to achieve the same goal of business expansion, but blogging introduced first and will continue to be massively important. As a matter of fact, there will always be a section of internet users who rely on blogs to obtain any information they need.
Over the past couple of years, something that has been popping up a lot is whether or not blogging is dead and off the radar. This post will outline useful data that might help you to determine whether or not you should put time and energy into your blog.
Let's get started!
Is Blogging Dead or Off the Radar?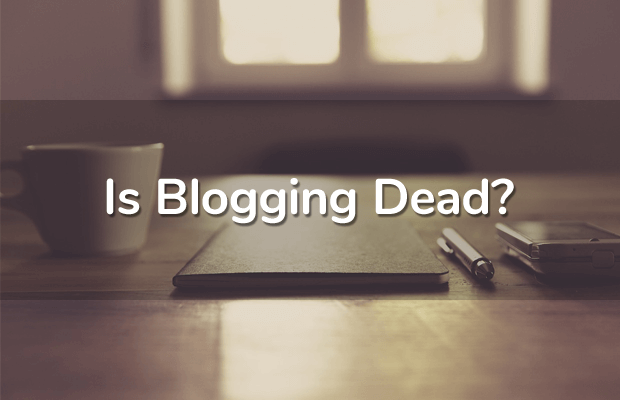 Even though things are constantly evolving with social media taking over the center stage in content marketing, blogging will always be alive, no matter what happens. If as a blogger, you cannot assume that there is no scope, otherwise your blog may be as good as dead. If you have the ability to think out-of-the-box and deliver accurate information to the readers, you are likely to enjoy the better engagement. It basically means that to stay ahead and beat the dynamic blog territory, you need to up your marketing game and give the audience more reasons to read your blog posts.
It is inaccurate to say blogging is dead and try to prove this aspect with certain arguments that social media and other trends have taken over. The fact that we live in an era of social media doesn't mean people don't read blog posts now. For instance, if you have been promoting your brand, it will only get better with a powerful digital marketing strategy, genuine blog posts, and active social media channels.
Why People Go into Blogging?
Depending on the desired result of your blog, there can be several reasons why people may choose to start blogging. In major cases, the ultimate aim is to reach, engage, and attract a wider audience. It not only helps in increasing your brand's visibility on search engines but also strengthens the bond between a creator and visitors.
Whether you choose to blog to boost your sales or to educate people on topics related to your niche, always pay attention to quality and users' intent. That said, it is crucial to follow certain blogging rules and ethics to publish true, authoritative, and factual content.
Why is Blogging Still Very Popular?
No matter what people think or say, blogging still enjoys millions of fans and trustworthy readers across the globe. People still prefer to obtain information through blog posts as compared to thin social media posts. There are many interesting topics flooding on the web such as food, travel, technology, lifestyle, fashion, fitness, politics, and more on which people still reading blogs.
Below are some statistics by 99 Firms that will show you how popular blogs are, the latest trends of how blog posts are created and consumed.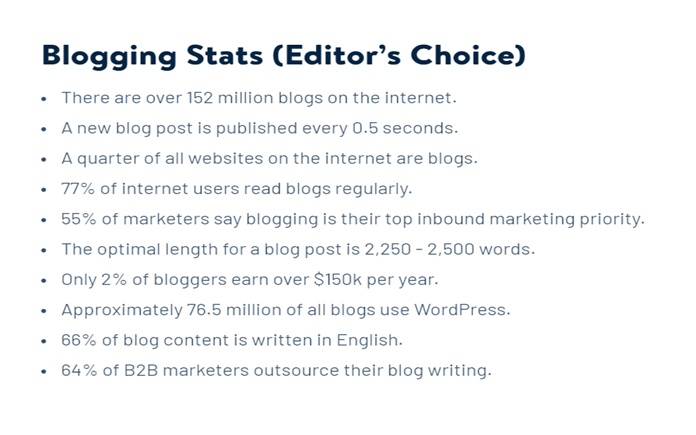 Source: 99 Firms
How Blogging Can Help to Boost Your Business Growth?
With the fierce competition across the world, growing and promoting a blog has become a key element to achieve success among all sizes and types of businesses. Incorporating blog posts into a solid SEO action plan may help you to increase brand awareness, acquire more customers, generate sales, establish brand credibility, and position you as an industry authority.
In this digital era, customers are more inclined towards convenience and desire to have a personal connection with a brand before making a final purchase. A blog could be a great medium to express your thoughts, authentic stories, and control your narrative to establish a strong relationship with potential customers or clients. Delivering useful information, result-driven marketing efforts and better experience will help you to boost your SEO ranking and drive more traffic to your site.
Conclusion:
Blogging has been around over the years and will continue to be an integral part of modern-day businesses and marketers to demonstrate expertise, authority, and professionalism. While the way we consume information has changed in recent times, people still rely on blog posts to obtain relevant information. The engagement of users is as good now as it ever was, and is showing no indications of slowing down anytime soon. So if you've been thinking about starting a blog for personal or business purposes, it is the right time to take your game a step ahead.