We all are living in the era of digital revolution. As new technologies emerging day-by-day, no one can imagine a world where survival would be possible without technology. And today, smartphone has become life of all of us. Everyone is dependable on some sort of mobile applications that manage one's task or business.
Since the demand for mobile applications is rising astonishingly, this is the age of using apps in various segments of life such as day-to-day responsibilities, online food ordering, hotel search, online gaming, or anything.
Mobile apps are turning out to be the greatest influential force in market. This is because the number of mobile users is increasing at a very faster pace.
In 2019, the total number of smartphones sold to consumers stood at around units 1.52 billion unites and this figure is expected to rise by 37% by 2021. (Soucre: Statista)
Data on apps importance for business
And marketing through mobile applications is now indispensible for business entities. Be it a local retail shop, online store, small enterprise, large enterprise or top tech giant. Marketing strategy is incomplete without mobile app marketing. How?
Here is the data to prove this.
49% of consumers use smartphones for shopping globally.
61% of American consumers depend on their smartphones in stores for price comparison.
21% of global web visitors added items on their carts on mobile.
32% of conversions in retail recorded because of mobile apps.
1 Billion Mobile users used coupons worldwide in 2019.
So, now you have got strong faith in the importance of mobile app market.
But you need to take a look deeper, after all, why mobile apps are transforming the marketing strategies. The reason is none other than but mobile app itself.
Why? Again understand this below data.
Your business strategies will depend where your customers are scrolling on a device. The below data predicts that mobile is set to take much space of desktop ad spending by 2022.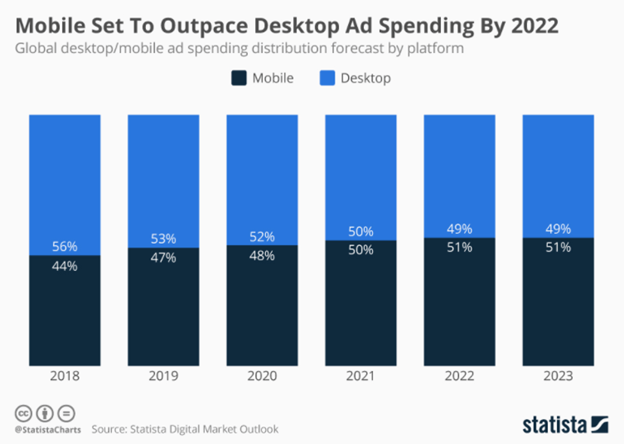 Additionally, take a look below on mobile device conversion rates and visit share for e-commerce websites.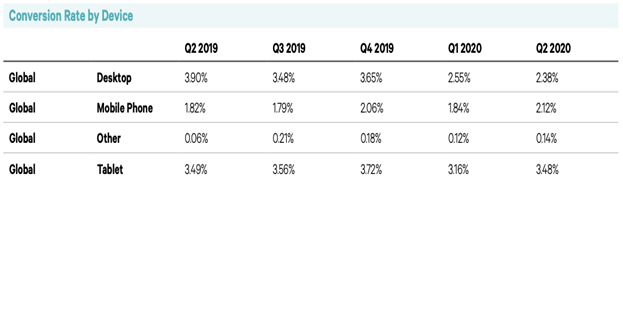 Data Source: Statista
With all these fresh data, you can comprehend the market prospects of taking your business through mobile.
So, in the coming years, businesses have to catch their customers on mobile platforms if they wish to expand globally or exponentially.
And here we have shown why mobile is important for your business for 2020-21?
It Builds More Audience
Audience building is the most beneficial aspect of using mobile apps for business. It helps you cultivate relationships with customers all across the world or your home country. Once the user installs an app, they can receive the updates from your app even when they don't touch their phones, with push notifications.
Along with this, it allows you to stay connected and track your customer behaviour. Therefore, industries are making the most of by offering great app features and rewards to the customers or users to enhance their brand exposure.
It Gives Analytics For Your Business Strategies
Mobile app allows you to track or monitor business analytics such as time spent on each section of the app, number of visitors, users most viewed product, app usage, and a lot more.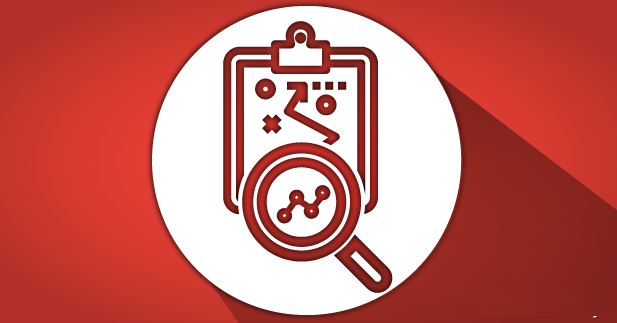 Keeping an eye through digital means on your customers, you can start to understand the ways in which you can enhance the quality or performance of your app to make it more user as well as business friendly.
It Offers You A Great Marketing Tool
Channelizing your business with a mobile app will give you a great exposure to implement the best product/service marketing. Businesses can communicate more efficiently and powerfully through mobile apps.
It allows you to send promotions, rewards, offers, incentives, updates and notifications to customer within a second. You can directly engage with your customer by offering them promotional activities or interactive events such as podcasts, webinar, user generated content (UGC), and much more.
Customer Loyalty
When you are flowing in the business for a long time, you acquire some loyal customers. These are the customers who will come to your place whenever they need the product or service you offer. This gives you a golden opportunity to retain your loyal customers. How? Let's learn from an example of Starbucks- the worldly-famous coffee provider.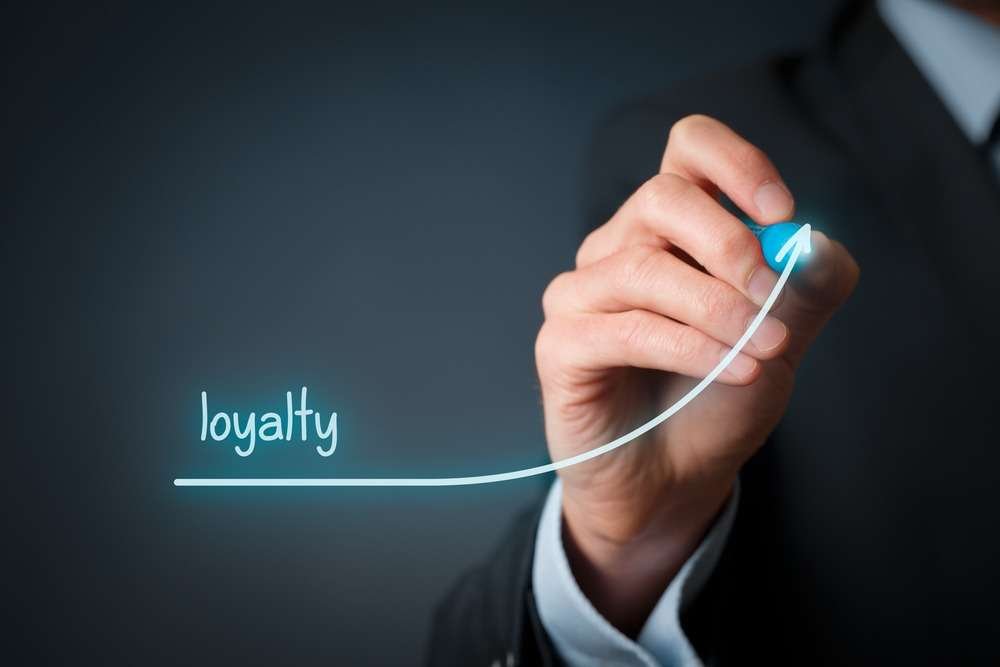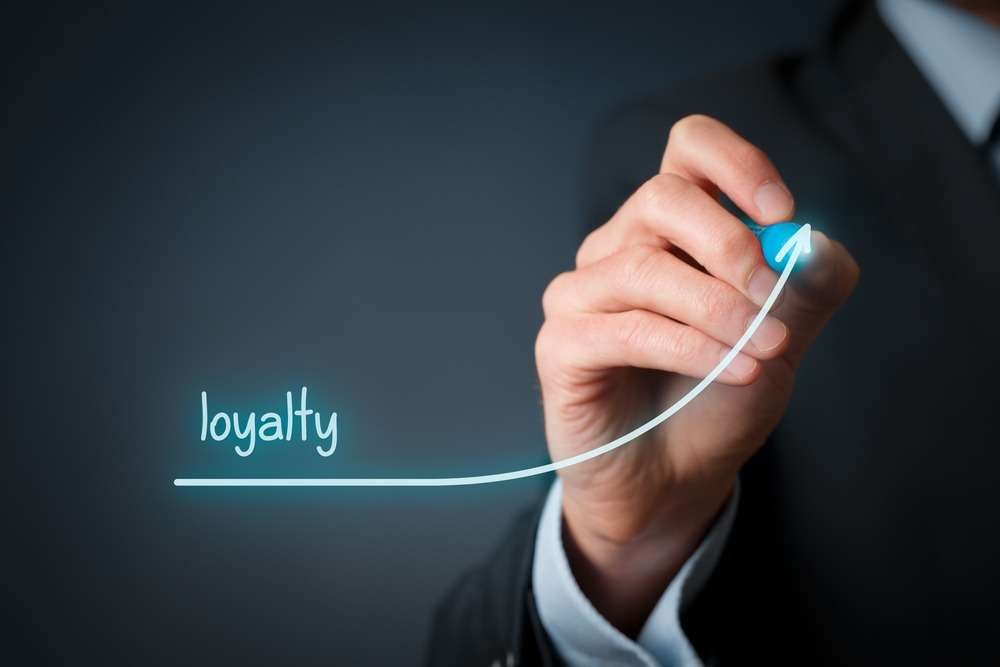 Starbucks adds stars to a customer profile whenever he/she visits any Starbucks store. Then, these stars can be converted into some sort of rewards. Similarly, giving points to the customers whenever they do shopping on your e-commerce site or online store. In this way, you can build customer loyalty.
And with the strong influence of social media such as Facebook ads, coupons, email marketing, and content marketing, it gives a convenient way for small businesses to cultivate customer loyalty with new as well as existing customers.
It Gives You A Competitive Advantage
As the tech companies are coming up with advance features in smartphones, it is creating pressure on businesses to stay ahead to gain customers in a faster and easier way. And, to be on the top of the competition, by using a mobile app as marketing tool can transform your business tremendously.
Therefore, in the recent time, the trend of 'Mobile First' policy is becoming the main business approach. However, mobile apps for small businesses are still rare but this is where you can make a difference and take an enormous leap.
As today's business world is highly competitive, so it is important to avail the best opportunities to enhance brand awareness and take competitive advantage via mobile.
It Will Prepare You For The Future Mobile Trends
Whether you are sitting in an automated driving car, watching fictional characters running in front of your eyes through VR box, or interacting virtually with users via artificial intelligence, the next age of technology will include mobile apps in their functions and utility.
Taking your business to mobile at present time will give a great advantage for preparing yourself for technology adaptation. You can enable your app with features that would be compatible with technology products such as smart watches, IoT products, advance smartphones, and so on.
It Can Convert Your Social Media Platforms Into Online Selling Platform
A strong social media presence is important for all types of business nowadays. Staying active and putting relevant content on social platforms is the key to success on social media.
It also helps you establish brand identity across the globe at lowest cost. So, can't we say that your social media channels have the potential to become an online shopping platform or your another selling portal.
Most reputed brands have created a niche for themselves on social media platforms. They have gained a huge number of followers, influencers who regularly put user generated content, positive reviews, and educate their customers about market trends.
And most of users are present on social media apps that give you a compelling reason to consider mobile for your business in 2020-21.