Since its launch in 2005, YouTube has become one of the most powerful video-driven social media networks. Currently, more than 100 million people are using YouTube and Almost 5 billion videos are watched on YouTube every single day. With more than 300 hours of video uploaded every minute, effective YouTube marketing is easier to do and it is popular than other social media platforms.
In today's digital age, the dynamics between businesses and consumers have shifted. The existence of digital channels has affected the behavior of buyers, and consumers are now in control of how they get information. Now, consumers no longer rely on the call or wait for the next commercial, but rely on the Internet to obtain information about your business. Recent studies have shown that video is the preferred social media platform for the consumer to receive information about brands or products that stimulates consumer curiosity. A HubSpot study found that 72% of people prefer video over text to get marketing information and with over 2 billion users, YouTube is their preferred platform. 88% of marketers say they have achieved success in YouTube marketing. Using YouTube video marketing can be cost-effective to grow your business globally, if used regularly as part of your marketing strategy.

1. Increase Sales Pitch
You need a strong sales pitch to convince your customers to buy a product or subscribe to your services. A sale can only happen when you have a strong value leads. Visitors only read up to 28% of the text on a webpage, while 20% of visitors expect being more realistic. It doesn't matter how strong the pitch is, it ultimately won't matter if your visitors will not read it. But conveying your information through video can really help strengthen your sales pitch. Customers not only like to watch videos, but they also retain 95% more information. Videos convey way more information when packaged in video format, is not only informative, but also entertaining.
2. Build Trust & Credibility
Trust and Credibility are crucial for every business to convert the leads into sale. People don't immediately trust any businesses they find on the internet. They do plenty of research before making a purchasing decision. Video marketing provides brand exposure and the chance to build up trust with your customers. It can prove valuable to your business. Promotional videos can boost confidence and can foster trust as well. Some consumers are still skeptical about buying products and services on the Internet because they are concerned about fraud and deception. But effective marketing videos showcase your products conversationally, which creates a sense of individual approach which is why 57% of consumers say video gives them more confidence to shop online.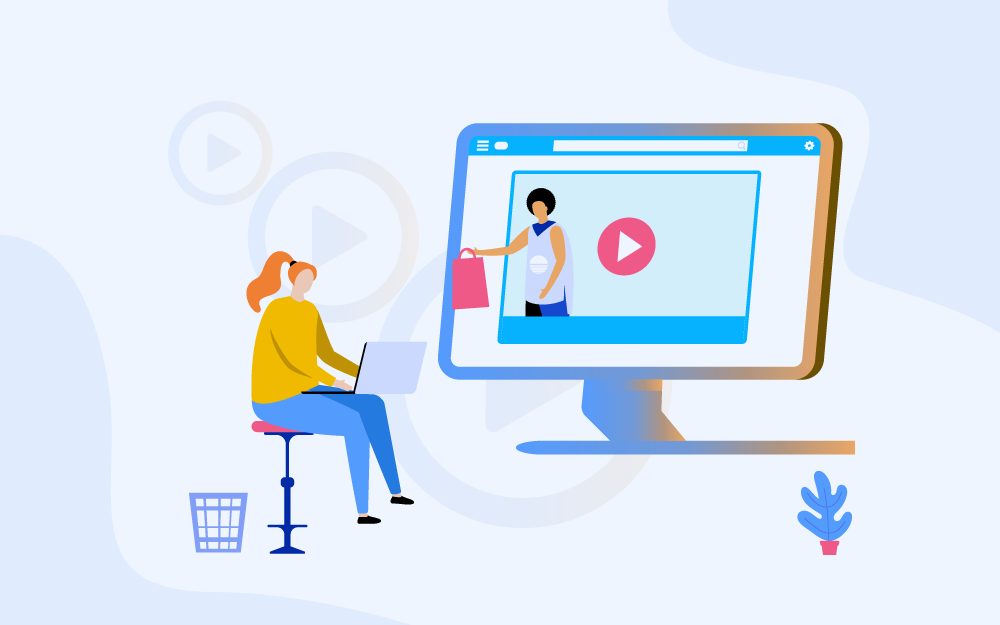 83% of businesses believe that their video marketing campaign is generating solid ROI. Your video marketing campaign must be authentic and unique to engage your customers directly.
3. Boost SEO
YouTube's users rely on its powerful search engine to search the content they are looking for. It processes more than 3 billion searches per month, more than Bing, & Yahoo combined, and has made it the second-largest search engine on the Internet after Google.
In addition to YouTube's own search engine, YouTube video marketing can also boost your search engine optimization (SEO) efforts and perform well on Google search engine result pages (SERPs). You can present each video individually with tags to optimize them and attract the kind of visitors you really want. YouTube is used by viewers to find useful tutorials, explanatory videos, and product reviews without signing on it. By making useful YouTube videos for your small business promotion, you gain access to a much wider audience. Optimize your videos with strong title & keywords, watermarks, hashtags, etc. make them most likely to appear in search results and get more views. Need experts help? Consult the best SEO Company in India to know more about the YouTube video marketing benefits for your business.
4. Help to be Found on Google
Google search results include images, videos, books, and news – all blended together, for providing the most relevant and useful information to their users. Google considers videos to be important as videos are given weightage like text-only pages. You can take advantage of this by writing and putting up quality articles on your website along with creating complimentary videos in YouTube. Doing this will create backlinks to your site. This will enable you to be found on Google search more often by people searching for you.
By using YouTube as part of your marketing strategy for your business, you are also increasing the authority of your website. The more authoritative your website is in Google's view, the higher your pages will rank in the search results.
5. Offers Greater Insight into Campaigns
The best thing about YouTube advertising and marketing is that it offers free analytics data via the Insight feature on each video's performance. YouTube's Insights feature provides all the data you need like how many views you are getting, your viewers' demographics, how your videos are performing, and your subscribers' status, similar to Google Analytics.
Most importantly, there is discovery data that shows how users are finding your videos. It also shows the links or channels they followed to get there. Data on the specific dates, external and internal searches, and the keywords used to find you are all available on the Discovery feature. All of these will help you improve your YouTube marketing services to help you optimize future videos.
With the recent changes in marketing strategies and the increasing impact of digitalization, businesses need to adopt the most effective and robust style of marketing. YouTube promotion is a valuable marketing tool for business. YouTube videos increase organic traffic from search engines by 157% and make it a serious marketing platform that gives your brand the opportunity to promote content in a truly visual and engaging way.