With a shorter attention span than a goldfish, it is not unreal that you need to have something on your website that can instantly grab the attention of your website visitors.
But that should definitely be beneficial for your final agenda, conversion.
Standing tall in 2021, website visitors spend approximately 10 to 20 seconds. So, to stay hold of their attention span you need to have a clear value proposition which users can get value out of.
It all depends on how strong of a first impression you can create for your product or service in the minds of your website visitors. But, keep in mind that you have to do all that in a very short bracket of time.
So, do whatever you can in the first 10 seconds.
What Can You Do to Hold the Attention of Your Website Visitors?
Create a positive first impression and make things clear.
Yes, every individual who steps in to your website comes in with a bunch of queries that they want to get solved.
So, start with solving these queries and satisfy their curiosity.
Now, you cannot address each and every question that your visitor has in mind. But what you can do is answering to the basic and common questions that most website visitors have in mind.
Wondering what they are? Let's help you understand them and see what you can do to solve them in the best way possible.
1. What Do You Sell?
The first thing that comes the mind of every person visiting your website is what are you selling? You should be absolutely clear about the same from the very beginning.
The moment someone lands on your website, they should get to know what product or service they are being offered. They would not love to spend their time guessing.
Neil Patel has done this job very well.
Visiting their website all you need to do is read the first line that says it all loud and clear. No beating around the bush.
Moreover, the website tracks your location and places it in their copy so well that you feel like you are interacting to some human being and not a pile of codes. It is quite simple and inspiring for a lot of entrepreneurs out there who want to make it big.
They are not asking you to scroll done and figure it out yourself about what service or product their website sells.
The first question gets answered on the very first fold, which makes a clear idea in the minds of website visitors and they are likely to stay.
So, the first and foremost thing is explaining your website visitors about who you are and what you are offering them.
If you cannot do that well enough, sorry you might lose a chunk of traffic the moment it lands on your website.
2. How Does That Matter to Them?
Now as you have made a clear idea about what you sell in the minds of your website visitors, the next thing that they need answered is why should they be bothered about the same.
They have landed on your website in order to solve pain points. Yes, they are looking for solutions. So, you need to make them understand how your solution can help them get rid of the pain point.
This is when you need to wave the wand of your value proposition.
Communicate with your value proposition and make your website visitors understand what extra value you are leveraging through your product or service.
Through their value proposition, Moz has told them how streamlined their service is and how the convenience of their clients is taken care of in a very clear and concise way.
Yes, you need to tell them why they should invest in your product or service, convincingly. That is value proposition all about.
You can also refer to HubSpot to get a better how of how you should design your value proposition and craft it effectively.
One last thing that we need to add is, to craft the best value proposition, you need to sit with your team and brainstorm about the USPs of your business and then craft it in a short, clear and concise way. Place it on your website in a loud and clear manner. That's all it takes.
3. How Much Do You Charge?
After you have made a great first impression by answering the first two questions pretty well it is time for you to face the questions that most people are worried about.
This question is the most vital as it is concerned with their hard-earned money.
Yes, we are talking about the cost of your product or service.
After getting to know about your product or service, this is the question that is bound to come in their minds. They want to find out how cost-effective your superb service is. It is worth the monetary benefit that you are asking in return?
But, answering this question does not mean that you have wave the price on the top of your homepage, that would be too salesy!
But here what you need to do is make sure that your website visitor can get to know the price of your product or service just through a single click.
Do not make them run here and there on your website in order to find out how much your product or service costs. If that is the experience that they are going to get through your website then do not worry something is going to go pretty skyrocketed. No, it is not your ROI, it is the bounce rate.
They would instantly run to your competitors and settle down with their offerings. Would you want that to happen?
4. How Are You Better Than the Others?
Standing tall in 2021 most of the markets or should we say niches are saturated with competitors. Most businesses are out there and burning their midnight oil to get an inch ahead of their competitors and making it big.
Speaking of smaller niches, even there are biggies who are trying to get the most out of it.
Hence, there is not much difference between their offerings and offers.
And, this is why it is not just getting tougher for businesses to deal but it is has also become quite tough for customers to figure out which vendor to settle down with.
So, they try to find out how reputable the business is, how well have they done over the years, how their customer service is and how they can add value to their lives.
In today's date, this is what differentiates businesses from one another. If you can work on this, you will be able to establish yourself out of the mob and attract more potential buyers with your x-factor.
Now, speaking of your website, this is not usually something that gets mentioned on the homepage and website visitors are quite aware of the same. So, you can leave it for your "About Us" page.
But no matter where you place it, you have to be quite intuitive and engaging.
5. How Easily Can I Navigate Through Your Website?
As we have mentioned earlier, the attention span of website visitors is less than even that of a goldfish.
So, you need to make sure that website visitors can go navigate through your website easily. And, speaking of ease, it should not take them more than mere seconds to reach their desired destination on your website. If it takes them more than the same, then they are likely to get bored and will leave your website in no time.
In fact, in a survey by KO Marketing, they found out something that is really quite vital when it about navigation. It says, "Almost 50% of respondents indicated they use the navigation menu, with 36% stating they use the Company Logo to reach the home page."
Yes, this is the level of ease that website visitors are looking for. And, you have to provide the same to make them stay. If they find navigating through your website tedious, then they will surely opt to visit some of your competitor websites undoubtedly.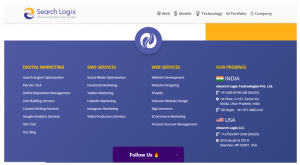 See how eSearch Logix makes navigation so easy for website visitors. This fantastic website provides website visitors with a couple of ways to navigate themselves through the website and which turns navigation into cakewalk.
If the website visitor is clear about what they are looking for, they can simply click on the given topic and the website will get redirected to the concerned page.
So, this makes it all very clear, you have to just keep your website navigation simple and effortless so that visitors can get everything catered to them with ease.
6. Who Else Have You Catered to?
This is a fact that everyone wants to hear from past buyers before they hand over their hard-earned money to some service provider. And, that is why word of mouth is the most effective marketing strategy of all.
So, if you can show your potential buyers that you do have a good lot of big names in your list of past or existing clients then that can really make a good impact on their minds.
This might not convince them enough to go and hit the purchase button but, will definitely make them surf through your services which will increase the chances of conversion for sure.
And, this is why social proof is important. But, how can you do that?
Well, for that, you can simply place the logos of your past and existing buyers on the homepage of your website itself.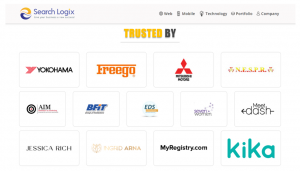 Source: eSearch Logix
Again, eSearch Logix has done a pretty good job in this matter. Here the names of their past clients are clearly mentioned. And, that is likely to make a very strong impact on the minds of their website visitors.
Other than this, you can also incorporate testimonials (videos preferred), and client reviews to be more convincing and portray your brand as a trustworthy one. And, that takes us to the next question, trustworthiness.
7. Are You Trustworthy?
This is quite a vital factor. If you are not capable of gaining the trust of your potential buyers then they are never going to hand their money over to you.
And, of the people visiting your website they will seek proof and if you can provide them with the same then only, they will look forward to converting.
And, this question will become even a bigger issue if you are new into business. Then building trust in the minds of your potential buyers becomes an obvious thing for you.
Because at any point if they find any thing that triggers disbelief, then that will lead a good lot of your potential buyers to leave your website in no time.
Now you must be wondering about how you can gain credibility without wasting a moment.
Let's help you with that too. Try these out:
Incorporating the physical address of your company on your website
Mentioning your contact number on your website
Put up badges of credibility from several institutions and laurels of your won awards
Place links of your terms and conditions and several other important policies
Come up with a return policy too
Besides all these, you also need to take care of the UX and design of your website in a way that makes it look professional. For this, you will also be required to add high quality images so that they don't make your entire entity look fake.
So, if your website looks like an old and weary one, it is high time to work on the same and give it a good revamp.
8. How to Get in Touch with You?
So, think of it yourself, if you visit some website thinking of buying something from them and then you see a hard time discovering how to get in touch with them, then you are definitely going to feel very disgusted, won't you?
The same survey from KOMarketing has also mentioned that "One content asset that plays a significant role in establishing trust and credibility is "thorough contact information." When asked what causes them to leave a vendor website, 44% of survey respondents indicated "No Contact Information / Phone Number."
Hence, there is no doubt about the same. They also say that over 54% of them mention "lack of contact information" is what annoys them the most.
So, it is always preferred to include all your contact information in such a place where it will take your website visitors very little effort to find. If you ask as, we would recommend placing it in the footer of your website.
You can also put it in your automated chatbot that would pop-up every time someone visits your website.
Final Thoughts
Practically, you do not have much time convince your website visitors to go through your website and take interest in your product or service.
To deal with people you need to answer to their queries. This will help you create a positive image in their minds for your brand entity.
This is pretty crucial to get them do what you want them to, and that will help you get a low bounce rate, high engagement and a good lot of other long-term benefits including a high conversion rate.
So, start working on these if you haven't already. What are you waiting for?