From Tim Ferris sharing strategies for success to Michael Hyatt helping listeners lead with confidence and excellence, the top Podcasters in the world wield the magic of WordPress podcast plugins to weave captivating audio tales. If you have a WordPress site and a podcast, then you're in for a stroke of good fortune.
There are tonnes of audio-focused plugins available in the WordPress Plugin repository, such as those for creating and hosting podcasts directly on your WordPress site, RSS feeds, integrating audio players into your website, offering downloads and many other features.
As the popularity of podcasts increases, a lot of WordPress plug-ins have been developed to support Podcasters. These plugins with customizable features help to significantly increase your listeners and expand your podcast reach. Here we are listing the top 10 WordPress podcast plugins on the market, along with their key features, limitation and prices.
PowerPress by Blubrry

PowerPress stands as a powerful WordPress podcasting plugin, born from the minds of podcasters for podcasters. With a history dating back to August 2008, it offers excellent control over podcast RSS feeds and a user-friendly interface. It has integrated subscription tools that make it easy for podcasters to grow their audience and get support from a community of fellow podcasters.
Salient features:
Easy setup and management of podcasts with Member Press integration
Seamless WordPress integration for podcast dissemination
Import and migrate media tools for hassle-free media transfer to Blubrry Hosting.
Responsive web design with tools for subscribing, optimised for high-resolution screens
Integrated audio and video players support platforms like YouTube.
Ideal for organic SEO growth with tailored episode titles, descriptions, and customised tags for iTunes
Customization options to suit website design and style
Monitor listener's trends with analytics and statistics.
Multilingual support with emoji-use for your podcast feed
Limitations:
Certain advanced features, like extensive marketing tools, might be missing compared to dedicated podcast hosting platforms.
Pricing:
PowerPress is a free WordPress podcasting plugin.
Fusebox
Formerly known as Smart Podcast Player, Fusebox stands as a revolutionary premium podcast player plugin for WordPress. It automatically displays your podcast episodes and even offers a new transcript plugin for timestamped transcripts.
Salient features:
Easy email subscriber acquisition with convenient newsletter sign-up
Flexible subscription widgets like forms, pop-ups, and even just widgets
Beautiful display across popular browsers including Safari, Firefox, and Chrome, lightweight, and mobile-responsive
Easily accessible episode transcripts for an improved user experience
Unlimited shows are playing simultaneously.
WordPress integration through Fusestuff for a podcasting powerhouse experience with interactive features
Playback speed control is up to 2.5x for faster content digestion.
Extensive customization options and effortless sharing on social media platforms
Limitations:
Navigation through its knowledge base can be challenging.
Currently limited to WordPress use only, excluding other CMS systems
Pricing:
The Fusebox WordPress podcast plugin is available in a free version as well as a premium version with extra features starting at $8 per month.
Simple Podcast Press
Crafted by Hani Morra, Simple Podcast Press targets podcasters aiming to expand their audience. It is one of the convenient podcast plugins that work by linking cloud-hosted podcasts with your WordPress website. It also automatically updates your site whenever a new podcast is released on your chosen platform.
Salient features:
Showcase your favourite iTunes reviews easily on any page or sidebar.
Read-along option or freedom to move while listening
Generate an engaging user experience with unique call-to-action buttons.
Create playlists of your favourite podcasts directly within the plugin.
Add signup forms for podcast growth and mailing list expansion.
Inclusive episode transcripts for accessibility and convenience
Works with many popular podcast platforms.
Turn show notes into attractive images to increase Twitter followers.
Ideal for promoting across multiple channels
Limitations:
Faces competition from similar existing plugins on the market.
No free option
Pricing:
Simple Podcast Press WordPress podcast plugin's pricing ranges from $69 per year up to $147.
Libsyn Podcasting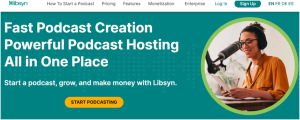 Libsyn is a dedicated hosting, distribution, and monetization platform ideal for both beginners and veteran podcasters. If you are looking to have your podcast both on and off, Libsyn is an ideal solution.
Salient features:
Customise listener-facing interfaces to personalise your media player or branded app.
Seamless WordPress integration with the Libsyn Podcasting plugin
Schedule episodes effortlessly for consistent content delivery on your WordPress site.
Optimise your podcast for Apple Podcasts with Libsyn's powerful tags.
Easy podcast draughts and episode scheduling
User-friendly block editor
Manage podcast draughts and content seamlessly before publication.
Ensure professional audio quality with Libsyn's Magic Mastering feature, regardless of recording equipment.
Enjoy reliable support from Libsyn's team for technical assistance and inquiries.
Libsyn's dedicated hosting platform offers specialised features tailored to podcasting needs.
Preserve and access episodes for future audiences with Libsyn's long-term storage solutions.
Limitations:
It may take longer to set it up and run it.
Pricing:
LibsynWordPress podcast plugin is free, but one needs to have a Libsyn subscription to use it.
Seriously Simple Podcasting
Seriously Simple Podcasting from Castos is a top-rated podcasting plugin for beginners and power users. It powers over 30K+ podcasts.
Salient features:
All the plugin features are well documented, making it straightforward to set up and configure Seriously Simple Podcasting on any WordPress website.
Seamlessly integrates with WordPress, offering a user-friendly experience.
Run multiple podcasts with unique RSS feeds on a single WordPress website.
Customise the embedded media player to display customizable subscribe links to Apple Podcast, Spotify, Google Play, Stitcher, Overcast, and Pocketcasts.
Support all popular podcast platforms like iTunes, Stitcher, Google Play, and more.
Shortcodes and widgets can be used to display episodes and playlists on your site.
Free transcription and analytics add-ons
100% free plugin with additional integrated features for Castos users
Pricing:
Seriously Simple Podcasting is a 100% free WordPress podcasting option, with the option to subscribe to cloud hosting.
Podlove Podcast Publisher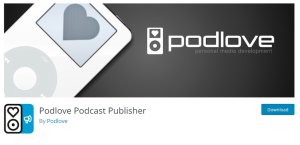 An open-source podcasting plugin, Podlove Podcast Publisher, caters to those seeking customization and extensive features. It makes it quick and simple to create super-compatible podcast feeds.
Salient features:
Access to powerful code for podcast data modification
A huge online community for support and ideas
HTML5 player for seamless podcast playback
Multi-format publishing with modern audio and video codecs
Chapter support for easy episode management
Track listener engagement with analytics.
Customizable templates
Compatible with enhanced HTML5 players
Detailed front-end options for listeners (forward/backward chapters, skip chapters, view titles, etc.)
Limitations:
There's no official support, so one has to seek help from the community of users.
Pricing:
Podlove Podcast Publisher is a free plugin with the option to buy live support.
JNews

JNews is a great tool for creating an attractive podcasting website in just a few minutes. It comes with unique features to enhance your podcasting experience. One can also customise it to suit their specific needs.
Salient features:
WooCommerce compatibility for seamless integration
Convenient paywall and subscription management
Built-in auto player for an enhanced listening experience
Import podcasts from popular streaming platforms.
TikTok feed widget to increase audience engagement
Limitations:
Depending on your hosting plan or server resources, you might face limitations on storage space and bandwidth for hosting and streaming podcast episodes.
Buzzsprout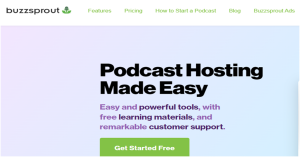 Buzzsprout is a comprehensive podcasting tool that has earned a reputation for hosting, managing, and distributing podcasts for both beginners and seasoned podcasters.
Salient features:
Magic Mastering for professional audio quality
Dynamic Content for flexible pre-roll and post-roll ads
Ads feature for podcast monetization
Track episode performance with detailed statistics.
Limitations:
Limited monthly upload hours on certain plans
One needs to have a Buzzsprout account and subscription to use
Pricing:
Buzzsprout Podcasting is a free WordPress podcast plugin, but one needs to get a subscription to get the most out of it.
AudioIgniter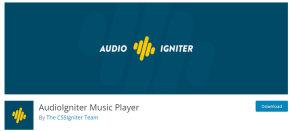 A modern and stylish WordPress audio, music, and podcast player plugin from CSSIgniter, AudioIgniter is perfect for managing music lists and long-running podcast shows with its endless playlist and track capabilities. It can be used to stream your radio show as well.
Salient features:
Supports audio and radio streaming.
Unlimited playlists and tracks
100% Compatible with Elementor, Visual Composer, and Gutenberg Block Editor
Compatible with more than 150 WordPress themes
Compatibility with over 150 WordPress themes
It supports all the usual features of an audio player (such as play, pause, skip, volume control, etc.).
Compatibility with over 150 WordPress themes
Visual Composer support
Widget and shortcode accessibility
Regular updates
High coding standards
Speed optimisation for the best user experience
Limitations:
It is not a comprehensive podcasting plugin.
Pricing:
AudioIgniter is available in a free version and a premium option, with pricing beginning at $49 per year.
Podcast Importer
SecondLine Themes, a WordPress theme store that specialises in WordPress themes for podcasts, created the useful aid tool known as the Podcast Importer SecondLine. The best tool for importing your podcast into a new WordPress website is this one. All you need is the URL of your current podcast feed.
Salient features:
Efficiently import a large number of episodes in bulk.
Compatible with all podcast hosting services and technologies, including PowerPress.
Import podcasts from iTunes feed URLs, even if using PowerPress.
The Pro version allows connecting multiple feeds and importing data into custom post types and taxonomies.
Enable unlimited scheduled podcast imports and sync episodes every hour or with a single click.
Import podcast episodes to any Custom Post Type and set predefined import intervals.
An audio player can be included in a custom field and set as the global or default featured image for all episodes.
Pricing:
Podcast Importer has a free and paid version. The free version allows you to import episodes as blog posts on your site. Podcast Importer Pro costs $24 for use on one WordPress website and allows you to import any custom post type on your site, along with other enhancements.
In order to choose the best WordPress plugin for your Podcast, it is recommended to determine your needs, check compatibility, essential features, design, performance, support, integrations, user reviews, and cost to suit your needs.
With these top 10 WordPress podcast plugins, you can combine WordPress' customizable features with a solid podcast hosting plugin to take your podcasting game to the next level. Happy podcasting!