In the best scenario, marketers would be able to promote their products or services to potential customers at the right moment they show purchase intent. That's what exactly Google Ads does. Over the years, Google has introduced significant updates that changed the way PPC (pay-per-click) is managed and optimized. If you really want to spend a fraction of the cost on ads to reach a wider audience, Google Ads could be the smartest move.
According to Statista, Google was ranked the most visited platform in the United States with close to 250 million visitors, a market share of 62.5% in 2019. Given Google's extensive reach, there's a possibility to gain better Click-through-Rates (CTR) and achieve the optimum results with solid advertising campaigns.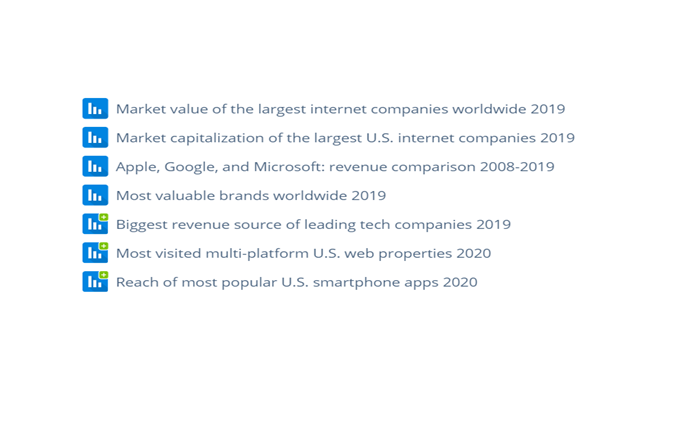 Image Source: Statista
Google Ads is a bit complicated but the level of ROI and growth you will enjoy is definitely worth the effort. To make things clear, in this guide we're going to cover how this platform does actually works and teach you how to optimize your pay per click campaigns to drive optimum outcomes. So, let's get started!
Why is Google Ad Perfect for Any Business?
Nearly any size and type of business can benefit from using the various advertising tools that AdWords provides. Whether your goal is to reach more audiences, improve brand awareness or revenue, it can be used by both brick and motor businesses and online marketers. With its focused campaigns and more chances of clicks, this platform is growing rapidly and considered a feasible option for all industries.
Image Source: Statista
It enables marketers to create appealing ads via both desktop and mobile, which means your brand will display on the search engine results at each moment your potential customers are looking for products and services you own via Google search. This way, you can drive qualified traffic, increase in-store visits and achieve all your paid advertising campaign goals.
How Does Google Ads Work?
When marketers and business owners want to increase the exposure of their products or services, they often rely on Google Ads that may lead to more competition in almost all categories. You might have ever thought about the fact that how does Google decide which ads to show to searchers, well the answer is an 'auction.'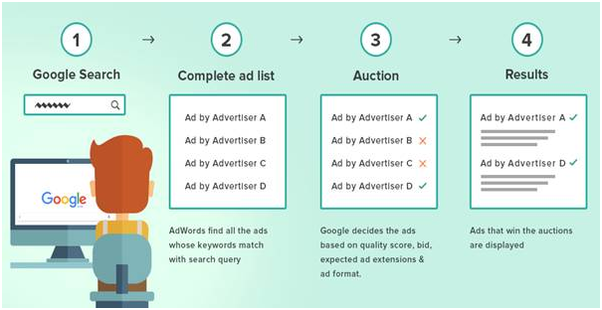 It happens every time when a search is conducted by a user. It serves the purpose of decision-making of which ads will show for a particular search and in which order those ads will appear on the page. The ads that eventually win the auction will appear the highest among the results.
In addition, Ad Rank is utilized to determine the ad position i.e. where the ad appears on the page in relation to other ads. It is generally calculated through bid amount, the elements of quality score and estimated impact of extensions.
How to Set Up Google Ads Campaign to Drive Best Results?
According to Internet Live Stats, Google processes more than 40,000 search queries every second, which translates to over 3.5 billion searches on a daily basis globally. If you're new into the world of digital marketing, PPC management may seem a bit daunting.
Here are some tips to set up your Google AdWords campaign successfully:
1.    Determine Your Advertising Goals
Before you begin with your advertising campaign, it is vital to have the right action plan in place to accomplish the desired outcome. Your objective can be anything from elevating your existing conversion rate to generate more site traffic, boost visibility on a certain post, lower down your bounce rate and so on.
2.    Register for Google My Business Account
If you are running any local business, it is important to accumulate some local citations prior to publishing your ad. That simply means claiming a Google listing so that your ad will show on Google Maps in local searches. It is even better to set up an account on local review portals such as TripAdvisor and Yelp.
3.    Choose Quality and Precise Keywords
If you're familiar with SEO (search engine optimization), this process might be straightforward. If not, it is still valuable to use Google's Keyword Planner to decide the relevant list of keyword based on competition analysis and bid prices. A broad match keyword will allow your ad to show for any searches that involve parts of keywords or phrases in any order.
4.    Craft Engaging Ad Content
Attractive content is key to capture the attention of search engines as well as searchers. When creating content, ensure to follow Google guidelines, make the best use of searched keywords and landing page information. Don't forget to add a call to action (CTA) such as "learn more" and "shop items on sale" to compel a click more easily.
5.    Track Your Advertising Performance
Any marketing efforts can be only successful when it matches up to the popularity, search engine's preference and customers' needs. Always ensure that your Google Ads account is linked with Google Analytics to track your ad performance through useful metrics. This will help you to alter your keyword selection and give valuable insight regarding which strategy works best or which isn't.
Google Ads can be arduous and requires consistent attention, learning and management. Hopefully, this 2020 PPC guide will help you to get your ads visible in front of potential customers on search engine results pages (SERPs).
If you need any further assistance on paid advertising and looking for a reliable PPC package, talk to our professionals to take advice on where to go next and get an audit today.