In the past years, we have witnessed a tremendous growth in the digital world and technology which has successfully replaced various traditional methods, even when it comes to calling an electrician. With on-demand electrician mobile app, you can easily find a suitable electrician to get a range of services such as repairing a washing machine, geyser, air conditioners, and so on.
Electrical failures are unpredictable and common in every household. Most of the time when local electricians aren't available, finding an electrical contractor could be possible with just a swipe and at your fingertips. For electrician app development, you need to keep many attributes and cost parameters in mind to jump start your business and create an excellent solution for everyone.
On-demand electrician app developed is comprised of two major sections, one for the user and another for electrician panel. So let's get into it!
User Panel
Login:Firstly, you need to log in with your credentials so that you can access all the details using your own account.
Select the Electrician:Users can select the right electrician and repair services they need to avail.
Request a Service:A user will request a service by giving time and location where the service is needed to be performed.
Payment Procedure:A user can process the payment to avail the necessary services.
Available Offers:Users can look for availability of offers as well to get services at discounted prices.
Check on Request History:Users can check the order history to book the electrician with a single tap.
Booking Cancellation:Users can cancel the booking because of their unavailability, last-minute changes and other reasons.
Give Feedbacks:Users can give ratings and review to the electrician based on the provided services.
Electrician Panel
Registration: This section remains the same for both users and electricians. They can sign-in with their login ID's to start the work.
Accept and Reject Appointments: As per aligned requests and users' locations, the electrician can accept or reject the application.
Manage Profiles:The electricians can manage their profiles by adding their years of expertise and experience.
Manage Availability:Electricians can set their status whether they are busy or available. Users can also select the date in advance to book the electrician on a preferred schedule.
Receive Payment: The electrician can accept the payment via integrated methods such as Debit/Credit card, PayPal, cash on delivery, etc.
Customer Reviews: The electricians can see the ratings and reviews given by the users.
Admin Panel
Dashboard: All the information, including a number of bookings, active users, request counts and so on managed by admin.
Users and Electrician Management: All the users and electricians are verified by the admin.
Manage Reviews:All the review and ratings given by users are managed by the admin.
Manage Services: Services like repairs and fixtures whichever is needed are entirely managed by the admin.
Manage Payments: Every transaction is handled and verified by the admin.
Manage Rewards: Any kind of coupons, discounts and loyalty programs are completely managed by the admin.
Reports: Any kind of report related to the transaction, incoming orders, most loved offers, peak hours when most orders are placed, etc. are handled by the admin.
App Marketing: All the promotional campaigns, email banners, content and templates are handled by the admin.
Why Making an On-Demand Electrician App Could be a Great Idea?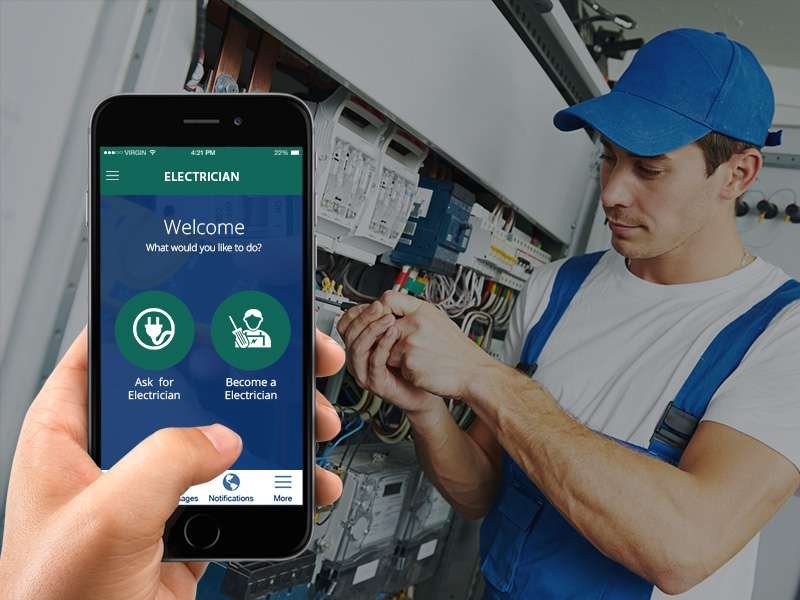 With the advancement in technology, convenience is becoming the first preference of people these days. They no longer want hustle for searching an electrician whenever they need repairing or fixing services. Mobile app development for android or iOS not only allows people to find a reliable electrical contractor but also make businesses stand ahead from the rest in the marketplace.
A consistent rise in the digital era due to innovations and large investments has taken the competition to high heights. Thus, it is necessary to create a handy app that allows users to connect with a suitable electrician in a matter of a few minutes and get all the work done seamlessly.
How Much Does It Cost to Develop an On-Demand Electrician App?
Making a reliable, robust and user-friendly app is never too easy. It demands a lot of planning, time and exertion. The overall expense of building this kind of application varies depending on its highlights, features, and key elements.
Conclusion:
The electrician app and the other on-demand repairing needs have caught the attention of many companies in recent decades. As customers are always in the need for immediate solutions, this could be a great way to solve their household issues related to electrical applications in a few minutes.
Are you looking for the best mobile app development services for electrician app? Contact us to build a flawless application and take your business to its next stage of success.