Voice search is becoming smarter than ever. We can see the evolution of voice search in terms of increased popularity and ways of using them. Various aspects of conversational AI are visible in the market.
Highlights:
32% of consumers are interested in hands-free technology
74% of houses are using voice assistant at their home
71% of consumers prefer to ask rather than type
More than 50% of users search directions and locations verbally while driving
46% of users look for local business information every day through voice search commands
56% of all voice searches are performed on a smartphone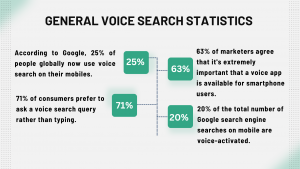 Let's understand various perspectives of voice search and recognition processes:
Voice search is evolving as a trend day by day with various technologies introduced to understand spoken commands better.
Users perform voice searches on their mobile, home speakers, and cars. More than 50% of customers use voice search while driving to ask questions like location, direction, playing music, etc.
Voice Search: A Dialogue System
Indeed, the voice search system is a dialogues-based process. Dialogue is a combination of tone, gesture, speech, and text.
The first dialogue-speaking system started in 1977. Along the way, constant research and development turned it into Automatic speech recognition (ASR) used in successful voice search practices now. ASR is also used in text-to-speech (TTS) where the device talks back to the user, you can see google assistant or Siri, or Alexa as the biggest example of this.
Why is Voice Search increasing its dimensions?
People experience dozens of such situations where they can't touch their smartphones at the same frequency.
Voice search is becoming faster and easier
In this digital era, time is money. In such a situation, people do not like to type the entire sentence. When there is a sentence to find on a search engine, one will choose the easier path.
Voice search is beneficial for mobile
Being apt for mobile is one of the biggest reasons for voice search popularity. 56% of all voice searches are made on a smartphone. Smartphones carved the way to use smart search and home speakers.
Why do websites need optimization to be voice search friendly?
Voice search is different from the traditional search pattern. The phrase family in a voice search process is almost different from the common one. Certain factors that represent these differences are mentioned below: 
Voice search uses long tail keywords comparatively
While searching you will understand the difference between keywords used in the optimization of a landing page or else for a normal search and a voice search.
For example:
On the desktop, you will type Cake recipe or cake making steps
But on voice search you will say, "Hey Alexa, how do I make a cake in easy steps?" 
Voice search majorly focuses on local listings
People generally search for the products, services, or places in the "near me" phrase.
For example, "dry cleaners near me", "gift shop near me", or "temple near me".
46% of users look for local business information every day. Local search results are very precise and focus on the GMB active firms under the digital marketing firms with all the data over it eg. timings, website, address, contact info, and pictures. 
Voice search results are to-the-point
Most Voice searches are performed in a lack of time. So, you can notice on the search result page after voice search, it generally mentions the GMB listings, featured snippets, FAQs, and listicles to help out the user as fast as possible. 
Voice searches are more likely to use question phrases
Question keywords using how, what, when, why, and where, etc. rank faster in voice search results. That is the reason FAQs are successful in the same. Using long tail keywords along with the filler words like I, the, of the, on the, too, for, etc. help the most.
Strategies to Optimize Your Site Content for Voice Search
Use Long-Tail Keywords
Brands must include the long-tail keywords in the website's schema markup. This allows the website to provide more precise information. Long-tail keywords are longer, more specific, and more targeted.
Transform Queries into Questions
Transform the FAQs on your website pages into the form of general questions. This will make your website like answering the questions. For example, writing "what are the different types of burgers?" instead of "types of burgers".
Optimize Your Content
Content should be user-friendly, highly readable, and usable. Do not overstuff content with a single keyword or else it will affect the content quality.
Design for Mobile
Design standards do not affect the voice search. But still, the design tactics for the manual one is similarly used in voice search. But a website needs to be mobile-friendly to rank on the voice search result page. 
Use More Conversational and multilingual Language
Voice searches are based on natural language processing systems. So, one needs to focus on the conversational tone of the content and try implying the native languages of the major locations you need to target.
Optimizing for featured Snippets
Google snippet box appears just under the search bar, this type of ranking is very effective for businesses. This search ranking comes when highly informative content like listicles pulls up the website over the top of the page.
Improvise Your 'Google My Business Profile
As discussed above too, voice searches are based on local SEO. People mostly look for local businesses. Rectifying your Google My Business profile with name, hours, street address and other relevant information will increase the brand's search ranking and traffic.
Wrapping up
Optimizing your content for voice search automatically increases your chances of ranking in manual searches. Such practices require higher expertise in content and digital marketing. A leading digital marketing firm like us comprising a team of experts best at their roles can help you with the latest techniques for faster website optimization as per trends.
You can reach out to a digital marketing company to check whether your website is voice-search optimized or not. They will perform an audit and provide you a report with the way mentioned to improve site performance.