There is a misconception about Search engine optimization (SEO), that it is all about keyword stuffing and link building. Gone are the days, when keyword-based content and backlinking were enough to rank at the top in SERP.
Search engines, especially Google, are shifting to user experience and human behavior to focus on better performance delivery. Optimizing a website for a higher ranking now comes from usability as much as from SEO strategies.
Google considers plenty of factors while ranking a website. Several elements that make up the user experience together are important for great website performance. A high-ranking website requires focus to improve user experience. A great user experience improves engagement, site traffic, and rankings.
User experience (UX) and search engine optimization (SEO) are two distinct yet related concepts that are essential for any website. Know how:
Factors Contributing to Good UX
Good UX starts with ensuring that a website is loading.
Loading Speed: Slow loading speed can lead to user frustration and abandonment.
Mobile Responsiveness: It is also an important factor in UX, as the majority of web traffic happens on mobile devices.
Intuitive Navigation: This is essential for helping users find what they are looking for.
Clear Call-to-Actions: Should be included throughout the website to guide users in the desired direction.
How UX Impacts SEO
UX can have a positive impact on SEO outcomes in a variety of ways. First, having a well-structured website that loads and is optimized for mobile devices can help improve crawling and indexing by search engines. Additionally, having good UX can lead to a higher click-through rate, as Google considers website UX as one of the most important in website ranking.
The user experience (UX) of a website can have a big impact on its search engine optimization (SEO). UX is the feel and quality of a website from the perspective of a user. It involves factors such as page design, user navigation, and content. SEO is the process of optimizing a website to rank higher for relevant search engine queries. Here, we will look at the relationship between UX and SEO strategies, and how optimizing UX can benefit SEO outcomes.
Improved Crawling and Indexing: When a website has a good user experience, it is more likely to be crawled and indexed by search engine bots. This is because search engine bots can navigate the website and find relevant content that is labeled and organized.
Higher Click-Through Rate: A website with a good user experience is more likely to be clicked on by users. This is because users are more likely to trust a website that looks good and is easy to navigate so they can improve user experience.
Lower Bounce Rate: A bounce rate is the percentage of visitors who enter a website and then leave without viewing any other pages on the website. High bounce rates say that visitors are having a negative user experience and are not engaging with the website.
Best practices to improve UX to best SEO outcomes pages.
More than 50% of internet surfers use mobile phones. It shows that websites with mobile-friendly SEO strategies are likely to rank higher as compared to other devices. You need to pay close attention to the features like layout, look, feel text, images, and experience of the mobile interface.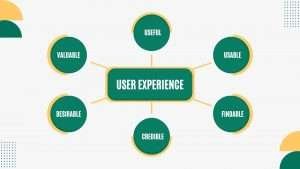 Almost all startups are moving to responsive websites that adjust their content, layout, and image orientation according to the screen size. Website developers need to focus on creating a smooth and consistent website. Maintain usability, concise design, and content to ensure higher mobile friendliness.
Get faster
Website loading speed impacts the SERP ranking. Customers are likely to drop websites that take more than 2 seconds to load. The lower page loading speed can increase the bounce and that affects the website's performance in search engine rankings.
Put attention to the concept of core web vitals introduced by Google. Use a faster web server cloud and optimize images to enhance page loading speed.
Easy site navigation
Complex site structure and confusing navigation affect site ranking. Simpler navigation not only boosts the SERP performance of your site but also enhances the lead conversion rates. Because users will navigate to the end of the site is simple to understand.
Web pages with quality content and a neat layout are a bit high performing in comparison.
Use headings
Heading has a great role in content identification, but also the click-through rate (CTR) depends on it. The title decides whether the user will check further content or not. Great heading plays a significant role in great UX and better SEO strategies also.
Always use the H1 tag on all pages. Try using many tags in content for a great content structure, it also helps readers to better understand and interpret the thing you are trying to say.
User-friendly layouts
The content layout, orientation, and formatting have a great influence on SEO. User experience can mold the SERP results to drive traffic. You can include images, beautiful themes, and videos to enhance site engagement.
Use a call to action
Use a call to action in the heading and subheadings to attract the audience. You can leverage the content attraction by rotating the content. You can use the question-based headings to increase the CTR.
A clear logo
The logo is the main icon of the company, and it appears first of all when someone visits your site. Logos should always be very attractive and creative cum unique. A logo and tagline that connects to your customer needs to become the identity of your brand, and your audience always remembers that. An attractive logo always improves user experience and helps in publicity.
Test, test, test
The best way to improve the website user experience is through testing. Performing many testings helps to identify bugs if any. You can make smart decisions further. Testing gives a great example of how UX and SEO work together.
The relationship between UX (User Experience) and SEO (Search Engine Optimization) is an important one that SEO experts should not ignore. UX plays a key role in helping to improve SEO outcomes and optimizing UX for SEO strategies can yield large benefits. In this blog post, we'll explore how UX can impact SEO, with a particular focus on how a lower bounce rate can be achieved.
UX and SEO are intertwined and optimizing the user experience can go a long way in improving the organic search rankings of a website. UX optimization can help to improve the visibility of a website on search engine result pages by improving the quality of content and increasing user engagement. This can result in improved click-through rates and higher rankings, leading to more visitors and conversions. Additionally, UX optimization can help to reduce the bounce rate of a website, which is an important factor for SEO.
Conclusion
The main benefit of upgrading user experience for SEO outcomes is that it can help to improve the visibility and rankings of a website without the need to invest in paid search campaigns or other costly measures. It also helps to increase user engagement, which is important for organic search rankings. Additionally, UX optimization can help to reduce the bounce rate of a website, which is an important factor for SEO.