Following in the footsteps of Twitter, Meta announces verification subscription services for Facebook and Instagram users.
On February 19, CEO Mark Zuckerberg announced a new product 'Meta Verified' under which Facebook and Instagram users can subscribe to paid verification services for $11.99 USD per month on the web and $14.99 USD per month on mobile.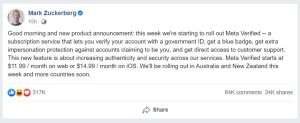 This service will grant the users a blue badge along with additional perks such as enhanced visibility, priority customer support, additional protection against impersonation, and more.
Interestingly the first announcement was made by Mark Zuckerberg on Instagram's new 'broadcast' feature where the admin of the broadcast list has the access to send announcements to all the subscribers in one go. Zuckerberg claimed this new feature is an attempt to increase security and authenticity across all (Instagram and Facebook) of their services.
Meta Verified- How to Subscribe to Meta's New Subscription Model 
If you want to sign up for Meta Verified then you need to meet certain criteria such as:
Meeting minimum activity requirement (have prior posting history)
Be at least 18 years of age
Submit a government ID (it needs to match the name & photo you have on Facebook and Instagram), and more.
Furthermore, users who do not have real images and names on Facebook and Instagram will not be able to apply for a verified badge. So, if you are someone who uses an alias or a quirky name in your profile then you wouldn't be eligible for this service. Moreover, users will be required to go through the entire verification process again if they wish to make any changes to their accounts such as changing their profile name, date of birth, username, and photo.
Meta's new subscription model sounds similar to Elon Musk's $8 per month version of Twitter's blue tick, but Meta reassures people that the company wouldn't make any changes to accounts that are already verified following their previous requirements such as notability and authenticity.
People who are going to sign up for this subscription model will receive the following benefits (including but not limited to)-
Blue verification badge
Increased visibility
Protection against impersonation
Priority customer support
Exclusive stickers for Reels and Stories
100 free stars per month (a digital currency that you can use to show love to creators)
Additional exclusive features in the future
Meta notes in a blog post that their long-term plan is to create a subscription model that adds value to everyone's lives, including content creators, online businesses, and the whole community at large. The verification badge in this subscription is an attempt to build trust and assure people that the accounts they're interacting with are authentic and trustworthy.
Meta Verified Launch in Australia and New Zealand 
Zuckerberg announces in his post, Meta verified will be launching in Australia and New Zealand this week and more countries will follow soon. Subscribing to this service (per month) will cost users $19.99 AUD on the web and $24.99 AUD on mobile in Australia. Similarly, in New Zealand, it's going to cost $23.99 NZD on the web and $29.99 NZD on mobile.
Conclusion 
Even though Meta has made sure to set itself apart from Twitter's Blue Tick model, one still can't help but draw parallels between the two service models. Now, only time will tell if Meta Verified adds value to users' lives or not.