The way business owners manage their information on Google has radically altered as a result of recent revisions to the Google My Business or Google Business Profiles interface, which Google has made numerous changes to over the past year. Power users have been anticipating some of the UI improvements for a few months because the in-SERP editing experience has been around for a while.
However, up until recently, customers had the option of making adjustments from both the old and in-SERP NMX. Google has been making gradual modifications by transferring various items from the conventional Google My Business Dashboard to SERP.
The New Merchant Experience (NMX), which eliminates the need to visit the Google Business Profile Dashboard, is how Google business managers engage with Google Business Profiles, add/edit information, and analyse insights and performance directly from Google SERP.
We'll discuss what NMX is, its advantages, and how business owners can use it to manage their profiles in this article.
What is the Google NMX?
The Google Business Profile dashboard is eliminated by the NMX, or New Merchant Experience, which also enables profile managers to access and change profile data directly from the SERPs. Although in-SERP editing is not new, getting rid of outdated content with the dashboard on google.com is.
In the future, profile managers will have to modify listing details, assess performance, and control Google Business Profile data from the SERP.
What are the things that have changed in the move to Google NMX?
Between the dashboards for their Google Business Profiles and the New Merchant Experience, users notice significant changes. The inability to operate within the dashboard has undergone the most significant alteration.
In the past, you could access the majority of the features in your Google Business Profile through the GBP dashboard and some through the NMX in-SERP. The situation has changed.
The following are some of the modifications:
Although the layout has changed, you may still upload material, amend basic information, and read Google's suggested modifications in the old dashboard.
From the conventional dashboard, almost all functionality has been transferred to the new in-SERP interface.
You can examine and change various locations, businesses, or practitioners without having to access the outdated dashboard by conducting a Google search (provided you are logged into the right Google account)
Updates have taken the place of Posts.
The three dots in the search engine results page hide a lot of information.
The way people manage images and logos has undergone a radical transformation.
Some helpful performance metrics have been gone, like the "how customers search for your business" conversation that displayed searches as falling into direct, discovery and branded search buckets. Through the API, the data is still accessible.
Just the number of requests over time has been added to the direction request data, which previously listed the locations from which customers had requested directions to your establishment.
Both the UI and the API no longer contain any photos insights.
What are the Benefits of NMX? 
More than 83% of users found the NMX challenging to browse, according to a BrightLocal Twitter survey, providing additional evidence that the first sentiment is unoptimistic. The New Merchant Experience has some advantages, though.
Users discover they still have access to the majority of the functionality offered by the previous dashboard after investigating the style and functionalities. Working within the SERP saves small businesses and non-agency managers time by avoiding the need to visit a different URL in order to access their company manager.
The typical user is unlikely to object to the change, despite the local SEO community's possible outrage. Some features are easier to access than they were in the original dashboard, making it simpler for the typical user to use them. It is likely Google's intention with the switch from a menu structure to a more obvious icon style is to encourage business owners to spend more time inside the NMX.
How Can You Get Your Business Profile Now? 
You can probably still discover your business listings in the Google Business Profile Manager "backend" if you access your Google Business profile(s) through an organization. You can now access the on-search dashboard by clicking them.
Additionally, you can now just type your company name into the Google search box, and if you are in the account connected to it, the New Merchant Experience dashboard will show up.
Where Do You Edit Your Business Information & Hours?
You must go to "Modify profile" on the New Merchant Experience dashboard in order to edit your listing's primary business information because the info tab of the original dashboard is no longer present. Here, you can modify your company's:
Name
Category
Description
Opening date
Phone number
Address
Website
Short name
Address
Service area
Hours & holiday hours
Business attributes & service options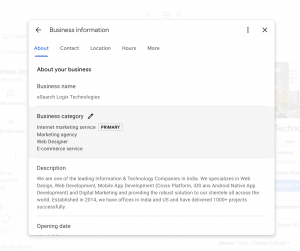 Is it still possible to manage your Google reviews?
Don't worry; other than where to do it, managing and responding to customer reviews hasn't altered much. Simply select "read reviews" from the dashboard menu. You can respond and reply to Google reviews of your company here just as you used to.
Google Posts, Offers, and Products/Services: Where Are They?
Planning to update your Google Business Profile with some Google posts or wanting to add some offers or product/service listings? Thankfully, users may still add each of these via the New Merchant Experience Dashboard.
Google posts, offers, & events: Click the arrow to display all the options in the dashboard, then click "Add Update" to create and publish a new post on your GBP. You can select from the options in the following menu whether you want to edit your profile simply, make an offer, or add an event.
Products/Services: The current method for adding new products/services or editing existing product listings in the New Merchant Experience is by going to "Edit Products" in the main on-search dashboard. Here, you can browse and edit your existing products as well as add new listings by clicking "Add Product." Additionally, from your profile on the right, you can easily view your products on Google Business Profile.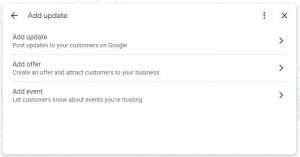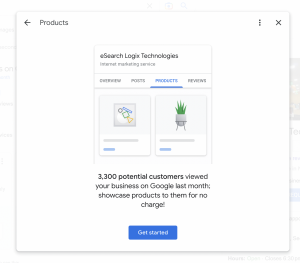 Guidelines for Managing Users on Your Google Business Profile
Are you trying to find a place to invite someone to handle your business listing? Many users of the New Merchant Experience initially struggle to locate this feature. Click the three dots button first (it should be right above the advertise button). Then select "Managers" after "Business Profile Settings." Here, you can add new managers and owners, change the permissions of current users, or even completely delete them from the profile.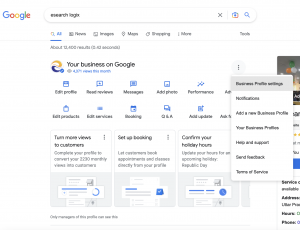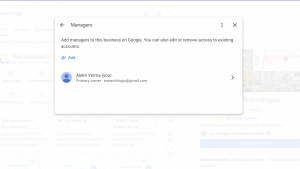 Are Performance Insights for Your Google Business Profile Still Available?
To make decisions on optimizations to make and to monitor how users are finding your listing, it is essential to understand how your Google Business Profile is performing. For a while now, Google has been promoting its "new performance insights" functionality in the previous dashboard. Unfortunately, we are currently restricted to using just this insights data as a result of the New Merchant Experience's formal launch.
Although theoretically all of the previously shown data is included here, the historical breakdown of different metrics like Search vs. Maps on a line graph will be absent.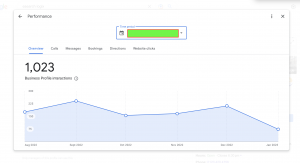 Making the Most of Your Google Business Profile with NMX: Some Tips
The earlier we become accustomed to using the NMX, the better since the old interface won't be coming back. Here are some suggestions for making the most of your time as a new merchant.
The quickest method to start using a new tool or update is to become familiar with it and understand how it functions. Utilizing NMX is the quickest method to become comfortable with it. Many of us, including myself, have tried to return to the previous dashboard, but this isn't long-term beneficial.
Try out the NMX to see how it works, then offer recommendations for improvement. We must take part if we wish to influence how this operates.
Look at the aspects that Google prioritizes for users, as these are what they regard as being most crucial. The prevalence of the review request option, Q&A, products, and services may be a sign of what Google may eventually emphasize even though ads are at the top of that list. (Remember that products don't merely refer to tangible goods.)
Continue to follow local SEO best practices.
The dashboard might have disappeared. But the underlying principles remain the same. Understanding local SEO is important, and improving your Google Business Profile in accordance with it is the best method to improve rankings and make more money.
Even while some of the insights we've been accustomed to seeing may no longer be available, if you have experience dealing with data, you can still generate amazing personalized reporting.
Reviews are closely monitored by both Google and users. Up to 96% of people look to reviews when making judgments on what to buy, and 70% of those users prefer Google reviews. Request feedback from your clients. React to all reviews, whether they are favorable or not. Ask the reviewer to edit their review after you have addressed a complaint raised in a bad review.
Google has made significant changes in the past, and more will undoubtedly follow this. Discover how the modifications can best benefit your brand after getting past your annoyance.
People have offered to contact Google with suggestions for dashboard enhancements. Even though the NMX is here to stay, it can yet be improved. Decide what could be done to make it better, and then tell Google and the local SEO community what you think.
Conclusion
Over the past year, Google has been busy releasing different algorithm improvements, updating Google Business Profile (including completely eliminating the app), and changing how search results are displayed. Local search markets and business owners should continue to anticipate the same things from the dominant search engine in 2023. It's critical to be informed about upcoming changes and implementations as the local SEO and Google search environments continue to develop.