What do you think is the most important ranking factor for Google and other search engines? Well, there are many. In fact, over 200, but what most would say is – link building.
Yes, link building campaigns are one of the most important and effective Search Engine Optimization (SEO) strategies that maters the most as a ranking factor. Of course, content is right there at the top. But content marketing and link building go side-by-side. The better you are able to gain backlinks from high-authority sites, the credible your content and your site becomes.
While internal linking is something that is in your control, earning backlinks from third-party sources is an aspect that you have to work for and strategize.
What is Link Building?
It consists of two factors – internal link building and obtaining links to your site from an external website. While the former is easy and based on relevancy and objective you can do this easily, gaining links from third party sites is an altogether different technique and effort.
Link building, especially gaining links from other sites and pages, is a strategy that ensures that your page (the link leading to) is valuable to the users and provides reliable information relevant to what the user is searching for and navigating through. This gains prominence and credibility in front of search engines which consider this as a distinguished ranking factor.
Link building allows websites and the content within become more accessible and visible, which helps in boosting the rank.
However, it isn't that you post your content on any site and gain link and Google and other search engines will give value to that. Higher the authority, popularity and prominence of the site you are gaining link from, the more valuable it becomes for your ranking.
Importance of Link Building
Ask any SEO expert, and they will tell you that any off-page SEO has content marketing and subsequent link building as their core strategy. The better you are able to spread your word out and gain backlinks from there, especially from high authority site, the more credible, valuable and solution-providing your content and page becomes in front of users as well as search engines.
By improving your link building strategy, you are ensuring that you become more visible and thus have higher chance of appearing on top in Search Engine Result Pages (SERPs).
Not only improved ranking, but link building provides several other benefits as:
Increased Traffic – When content posted on a high-authority website link back to you, then there are high chances that people may want to check that to gain more information. This means you gain enhanced incoming traffic from sources than search engine results. However, it is important that your content is relevant, rich in information and valuable to the visitors.
SEO Metrics – Better link profile means your site's overall health improves, and this leads to improved Domain Rating (DR), Domain Authority (DA), and more SEO score aspects.
Improved Credibility – Links are indicators of a site's DA. When your site or pages are getting linked back from many high-authority sites, it means that the source is highly reliable. But this can be achieved when you focus on quality of backlinks rather than quantity.
Link building also helps to improve brand awareness, revenue and much more.
What Your Focus Should be When Building Links?
When you are building links, ensure that you earn or gain links from sites having:
High URL rating
Multiple referring domains
Link-building is a continuous effort that needs lot of strategies, planning and execution:
Lead prospecting
Selection
Finding and verifying emails
Outreach with a clear strategy, backed by relevant and strong content
Link Building Tools – Technology at Your Rescue
Link building, just like there are a lot of technological and tool usage for multiple SEO strategies and implementation, it is also a strategy that can be executed effectively with the right usage of the best link building tools.
As link building is a core SEO strategy, there is no denying the fact that you cannot miss out on leveraging the tools and technology at your disposal to keep up, improve and update your link building strategy.
Having said that, you have to research and assess what link building tools you have to use, specific to your objective, and SEO process.
So, here we are going to discuss about different SEO linkbuilding tools that you should know and pick from.
Top Link Building Software
1. Ahrefs
Ahrefs is considered the best link building software in present times, utilized by some of the best in the industry, and by many as well. There is a chance that reading Ahref in this list will make you surprised. But apart from many other thinks that Ahrefs do, it is a great tool for backlink index check.
This tool helps to get in-depth information about link prospects, and its Site Explore feature helps to download and assess the pages' backlinks comprehensively.
2. SEMrush
SEMrush does many thing, and SEO experts swear by it for a range of tasks that they can achieve with this. This all-in-one SEO tool is equally effective for its link-building capabilities support for the marketers.
With SEMrush, you can engage in backlink analysis, finding link opportunities, link outreach, link vetting with bulk analysis and much more.
3. Moz
Apart from SEMrush and Ahrefs, Moz is also one of the multi-purpose SEO capability tools that does great for your link analysis and link building.
With this application you can get support for backlink analysis, link opportunities process, link outreach, selection, and much more. Its link explorer feature is something that you must try.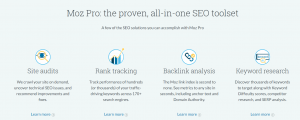 How great it would be if you can get a complete assessment of each page's backlink profile along with the ranking of the page on major search engines for the targeted keywords.
This tool is more about backlink analysis, which you can quantity in relation with page's SERP ranking to update your keyword strategy and link-building efforts.
5. Hunter.io
One of the main processes of link building is finding the site owner and create an outreach strategy that allows posting your content on their platform and link back to your site or page. For this process of finding the site owner, Hunter.io does it for you on your behalf. What you have to do is to provide the name and domain related with the site owner.
Pitching prospects is a complex and puzzling process in link building, which this tool makes easy for you.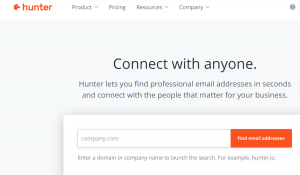 6. Linkody
Linkody has become a favorite tool for many marketers and SEO professionals because of its capability to track backlinks easily and effectively. One of the other reasons for its popularity is its high affordability.
The decent link index makes this tool allow you to get access to precise pages that are getting maximum links.
7. Buzzstream
Buzzstream also work somewhat like Hunter.io, as it helps to extract all the key information related to author and owner of a site to proceed with your link-building prospect outreach approach. It enables you to get access and create a database of the site owners and authors so that you plan out who are already contacted, who more to contact, and more.
In fact, its ready-made templates help to compose and send mails to the prospects easily and effectively, thus saving a lot of hassle, effort and time.

8. JustReachOut
In simple terms, this tool is – highly effective to reach out to prominent authors, while being affordable in use.
As the name suggests, this tool is great for link prospecting and for outreach approach. However, what makes it unique and great is that it lets you connect with media websites, news sites, and journalists. When you are able to gain a link from such sources then it becomes very valuable for you. You can not only create curated lists of journalists but also influencers in your industry and reach out to them with guidance and support their experts as well.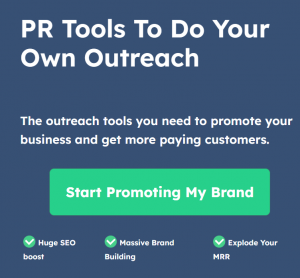 Conclusion:
Apart from these tools, there are many more that you can factor in, which works more or less in the same vein as we have listed above. In fact, Google is a tool that does all for you, and its link-building capability is also something that you cannot deny. And the fact that it is free makes Google a very valuable resource. However, you have to put in a bit if research effort to extract the right info and work with the right approach.
Some other tools that you can consider include:
GroupHigh
Link Prospector
cognitiveSEO
Pitchbox
Monitor Backlinks
HARO
NeverBounce
And more
Link-building is a core process of entire SEO strategy. And this is one aspect that you cannot afford to lose focus on. You have to be precise, strategic and use the right tool in the right way. Work with your SEO agency to pick out the best tools that aligns with your objectives, streamlines your process, delivers actionable steps, and enhances results.