SaaS is taking over the cloud computing market. It is becoming an viable choice for organizations that are in search of great functionality, accessibility, and versatility in today's cutting-edge competition.
SaaS is the only type of application that can generate maximum profits at minimum investment. Therefore, it an incredible choice for startups, entrepreneurs, and business ventures who want to establish their businesses by proving streamlined application solutions.
Today, most companies are looking for robust SaaS solutions which can assist them in automating their daily business operations to save their manual cost and use human brainpower in the most productive areas.
SaaS has transformed the working methodology of different companies. Industry leaders predict that this is just the beginning of the age of SaaS applications and a lot more will happen in the industry as various SaaS trends will emerge.
The growing usage of artificial intelligence, machine learning, and advanced cloud technology is empowering SaaS to reach its next level. We are leaving the software age and now entering the world of SaaS.
Gartner forecast that SaaS will reach $140 million by 2022, surpassing almost twice of its closest rivals- IaaS and PaaS. This has started a level of SaaS trends that will shape the future industry.
If you are planning to establish SaaS business, it is the best time to prepare yourself. In this article, eSearch Logix will tell you about 10 SaaS trends in 2022 that will have huge demand in the industry.
Current SaaS Market Statistics
SaaS is basically Software-as-a-Service which is an online application used by individuals and companies on a subscription plan. This technology has dramatically changed the business practices and brought radical improvements in the business model of various companies from small to large scale.
SaaS offers its users with high security, regular updates, negotiable payment options, and enhanced collaboration. These factors play a significant role in determining the success of your company.
On average, companies are spending more on SaaS services year by year, which is expanding its market value of $623 billion by 2023. If you see the SaaS market size, it is expected to reach up to $436.9 billion with a CAGR of 12.5%.
38% of businesses have their systems running entirely on SaaS and 86% of companies that use SaaS apps have witnessed high employee engagement as compared to other companies.
If you take a look at the global SaaS market report from Statista by region specifically, USA has a large number of SaaS users worldwide with a big margin and there is no sign of USA will slowdown in this race. In fact, it is expected to remain the world leader for at least 10 years.
Global software as a service (SaaS) market share 2020- 2025, by selected country(in million euros).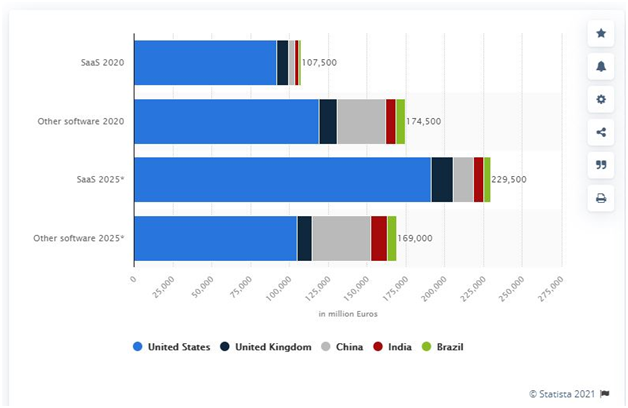 This is because of the development of cloud and other emerging technologies such as virtualization, containerization, and edge computing which are coming into mainstream and driving additional cloud spending.
According to Gartner Inc., worldwide end-user spending on public cloud services is projected to grow 23.1% in 2021 to $332.3 billion, from $270 billion in 2020.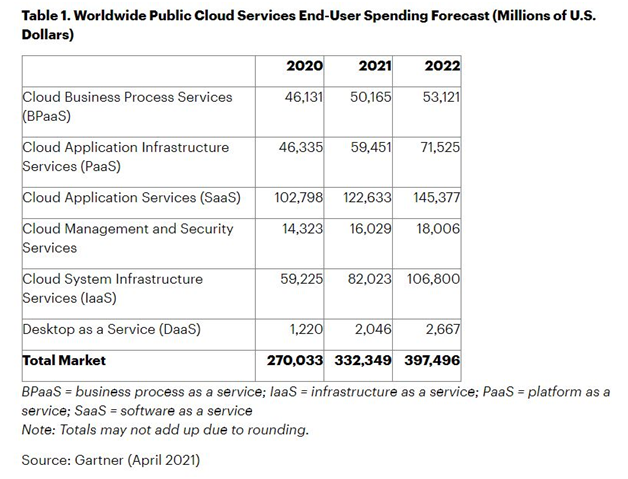 However, the SaaS growth rate is comparatively slower than other cloud services like Platform as a service (PaaS) and Infrastructure as a service (IaaS). But new SaaS trends have started to change the game.
So as you can see here the SaaS market will be greater in size and demand in the future. Now, it's time to know…
10 SaaS Trends 2022 That Will Have Huge Demand in the Industry
TREND #1: AI & ML Learning
AI and machine learning are hot trends in SaaS application development. AI is enabling data collection and utilizing its various algorithms. As businesses have to collect a lot of data so it makes more sense to have an AI-based SaaS application.
Many SaaS based eCommerce platforms integrate AI into their system because its algorithm uses the most advanced neural network for anomaly detection and a machine-learning algorithm for pattern recognition. This enables the application to send important alerts from user behavior patterns to help businesses understand their potential customers.
Top SaaS application Development Company in India relies on AI & ML-based functions to channelize their SaaS app to obtain better value from their data, automate and personalize services, upgrade security, and augment human capability.
TREND #2: Vertical SaaS
The second SaaS trend in our list is Vertical SaaS. There are mainly four types of SaaS applications; Vertical SaaS, Horizontal SaaS, Batch SaaS, and Hybrid SaaS. Out of them, Vertical SaaS is completely customizable, targeting clients within certain industries and supply chains. For example, retail analytics, healthcare analytics software, and modern logistics analytics.
Companies are finding Vertical SaaS applications cost-effective because it allows them to refine the customization of specific features. Vertical SaaS applications provide many benefits such as:
Customer behavior patterns
Pre-defined metrics and KPIs
Business value
Improved data governance
Higher quality service
Vertical SaaS apps also have the capability to adapt features as per the demand and industry requirements and address customer needs within their niche. This results in more flexibility and upselling opportunities and reducing customer acquisition costs.
TREND 3#: Growing Need for API Integrations
API (Application Programming Interface) is a fundamental part of software development and plays a crucial role in Software-as-a-Service. As the industry is demanding unique SaaS solutions, the need to integrate APIs into existing business systems is growing significantly in the current market.
Many companies want to migrate all their data to a cloud platform, at the same time they also want to harmonize it with their already existing infrastructure in order to improve their services. And this is where problems lies. SaaS providers usually don't provide a complete API integration solution.
This lack of service leads to a decrease in the efficiency and robustness of the SaaS app. Therefore, companies are looking for the innovative SaaS products, which come with useful APIs.
Many companies are already using SaaS tools to easily work with the existing systems. So we will see this SaaS trend make more noise in 2022 and its demand will certainly grow at a large extent.
TREND #4: Data Security
Data security is a hot concern in the modern business world. Today's users are aware of companies collect their information that is why they prefer to provide their details to those companies which assure their data security.
Not just for customer information, companies have to also protect their own data. SaaS allows people to do business globally so it becomes critical for them to ensure privacy policy. GDPR is the live example of this which asks not just a SaaS company but also other companies to comply with data protection guidelines.
From a business perspective, SaaS applications collect a company's sensitive information so they look for strong data security features in SaaS. In 2022, we will see this trend a major factor as businesses will need more SaaS security solutions that have robust data security and privacy protection.
TREND #5: Mobile-First Approach
Mobile is controlling almost everything through fingertips. Many thought leaders predict that around 72.6 percent of the world's population will browse the Internet through their mobile devices by the year 2022.
Top SaaS Companies in USA already have high-performing mobile applications which are providing the same services easily to mobile users. Modern entrepreneurs also prefer SaaS solution which is highly focused on mobile functionality.
Mobile cloud computing is enabling SaaS companies to provide mobile-first cloud apps aimed at enhancing operations specifically for mobile users. Therefore, this SaaS trend will likely reshape the industry from 2022 onwards.
Here are the main areas of the mobile-first approach in SaaS:
Increased mobile app personalization that is combined with AI & ML
Ultra-responsive mobile features and functionality including intuitive filtering abilities, task optimization, and one-swipe actions
Enhanced accessibility for users with sight or hearing challenges, and learning difficulties
Immersive mobile experience
TREND #6: No Code & Low Code SaaS Tools
SaaS development is a dynamic software engineering process that has the ability to solve other development requirements. Its unique nature makes SaaS usable for everyone, not just for developers only.
No code and low code tools are emerging SaaS tools. No code tools don't ask for technical knowledge to use them. Their UI/UX technique is simple enough that anyone with a simple understanding of how a web application works can easily create a web application using no code or low code tools.
And the way the demand for mobile application development, web development, and software development is growing, the need for no code, low code development tools is becoming a big SaaS trend in the market.
Leading web development companies in India are using no code and low code SaaS tools in developing applications rapidly and accurately. These tools not only reduce the coding complexity in web applications but also create a mobile app without coding.
At eSearch Logix, our software engineers and web developers also use AI-powered SaaS tools to build the solutions with simple coding structure and high-level functionality. So we believe no code and low code SaaS Trend will create more demand in the industry due to it less coding requirement feature.
TREND #7: Micro-SaaS
The seventh item in our list of SaaS trends in 2022 is Micro-SaaS. It is basically built for just one service. Micro-SaaS is a kind of small tool that focuses on one-single function. They usually come in the form of add-ons, extensions, and plugins for platforms like WordPress, Instagram.
Micro-SaaS tools allow businesses to have big margins at low risk with location-independency. They are used for instant, personnel administration, CMS, email marketing, and so on. The demand for Micro-SaaS tools will have great size due to its following features.
Micro-SaaS is a smaller application that is easy is manage and it requires low costs in development and maintenance that drive high margins. Website development companies always look for such effective plugins, and Micro-SaaS is specially designed for this.
By analyzing its utility, there will be huge scope for Micro-SaaS tools in the near future as these applications provide more miniature and focused SaaS solutions to businesses across different industries in 2022.
TREND #8: White Label SaaS
This is one of the hottest SaaS trends that will catch up more fire in 2022. White Label SaaS is essentially a process where a software-based business builds a fully developed, tested, and finalized platform and then sells it to another company.
In simple words, a supplier sells unbranded cloud solutions to agencies to put their own branding and resell at profits. The key feature of white-label SaaS apps is that they are fully customizable to look yours.
This type of SaaS application enables your business to scale up with no overhead costs and generate more revenue. As per a market report, 77 percent of users and companies mostly prefer SaaS providers that help them to customize their SaaS products. This clearly indicates why White label SaaS will be the next trend in 2022.
TREND #9: Migration to PaaS
Software-as-a-service is a dynamic and always evolving industry, and PaaS (Platform-as-a-service) is a significant part that is expected to transform all industries.
If you consider the report from Statista, the PaaS model is growing faster than SaaS. In fact, the number of installed PaaS applications is projected to grow by 85 percent as compared to 21 percent of SaaS.
So what are the main reasons for the emergence of this SaaS trend? Actually, PaaS is a great choice for businesses that want to build custom SaaS app.
It also allows SaaS developers to create software faster, easier, and cost-effectively. Strong data protection is the main advantage of using PaaS. Therefore, migrating to PaaS will be a top trend in the industry.
TREND #10: Centralized Analytics
In this growing age of digital transformation, every business sector is looking to streamline its organization while getting deeper insights into its customers or users.
This centralized analytics enables users to take a deeper observation into their data from a single point of view, extracting hidden insights. It offers a single performance dashboard where every team member has access to sensitive and critical business information.
As we already discussed about data security, the demand for centralized analytics is sure to increase in the industry. In fact, industry leaders predict that investment and value in analytics-based SaaS platforms will grow by 23.3% by 2022.
Even in the upcoming years, the need for a centralized analytics component in a Software-as-a-service platform will have great demand. As this kind of SaaS app empowers business owners to make intelligent business decisions based on well-analyzed data, we believe this SaaS trend will play a big role from 2022 onwards.
Conclusion
SaaS is today's most powerful tool for every business that enables them to grow and gives excellent business opportunities for entrepreneurs and startups.
By analyzing the current SaaS market statistics and industry requirements, we predict these SaaS trends will impact every industry vertical in the near future.
We hope this list has helped you understand the future scope of SaaS. Now we would like to hand over the mike to you.
Which SaaS trend do you think will play a major role in the next year?
Share your valuable thoughts in the below comment box, or
Do you have a SaaS development project in your mind?
eSearch Logix is a premier SaaS development company who is providing modern SaaS solutions from small to large business organizations globally. Our certified developers use robust frameworks and maintain high standards in software-as-a-service development.
Book a Free Consultation Now and discuss your project with our experts.