Investment apps are making richer both app owners and investors.
In 2013, an app pioneered a new trend of investment by allowing public to invest in trade stocks, ETFs, and cryptocurrency for free on mobile device.
This trading app provided a smooth interface where public could invest in various stocks without any commission fee and became so popular that it increased the user base from 2million in 2017 to 6million in 2021.
It is the story of Robinhood app.
But wait, the story isn't finished yet.
The success of Robinhood app set up a benchmark and inspired many business people to build an investment app. But there was something missing in the market that could guide public on investing.
Robinhood offers a DIY (Do-it-yourself) investing platform where an investor needs to use his own experience or knowledge while investing.
Then a new investment app 'Invstr' entered the market and created a sensation. It not only provided public with a mobile platform to invest in but also focused on educating investors with extremely helpful resources.
Invstr app helped people understanding how to invest and where to invest with many attractive features like Fantasy Finance, the 100k Challenge, and Invstr Academy.
Due to its amazing features, it acquires 500,000 users and became an award-winning mobile app for helping aspiring investors learn to invest and make profits with an intelligent decision.
This is how investment apps are enabling public investors to earn better returns on investment while empowering them with knowledge.
In this blog, you will know how to build an investment app with impressive features that can make both app owners and investors rich. You will also learn what features are enabling these investment apps to earn a lot of revenue.
What is an investment app?
Investment app is a mobile application which allows both beginners and experienced investors to manage their investments in the stock market and other financial markets. These investment apps help investors save money and boost their ROI with a range of dynamic resources at low app fees.
Why you should develop an investment app?
"Learning to become an investor is like learning to play a musical instrument or learning to play a sport. When you play a sport, you've got to get fit, you've got to practice your skills, and then you've got to out and perform in the real world." - Kerim Derhalli, a former managing director at Deutsche Bank, and Founder of Invstr app.
The need for turning traditional brokerage agencies, investment companies, financial consulting firms, and other finance-related businesses into online platform is increasing significantly in the growing age of digitalization.
And the first example was launched in 2013 in the form of Robinhood, a mobile app that started free trading. Robinhood app was founded by Vladimir Tenev and Baiju Bhatt, who had previously created high-frequency trading platforms for participants of the US financial system.
Since then, lots of stock trading companies including Merrill, Interactive Brokers, and Fidelity Investments successfully adopted this strategy to attract more investors to their mobile trading applications and web platforms.
One more trend captured the attention of the online stock trading industry when it allows traders to buy fractional shares. This enabled anyone to join the trading game using apps like Stash, M1 Finance, and Robinhood.
In 2020, there was record demand for digital trading solutions in the market. Despite the US is experiencing large unemployment, the stock market is still on the rise.
Android application development company India reported a noticeable growth in their development projects related to finance. Last year, eSearch Logix assisted some European clients in creating apps which offer interactive and mobile-friendly investment services to users.
So why the demand for investment apps is growing?
Many people see trading as a chance to make money. Robinhood app saw its highest trading volume ever in June 2020. TD Ameritrade, a similar investment app also reported record trades in the second quarter of 2020.
Investopedia recently surveyed 1,405 millennials and their Gen X and Gen Z counterparts. The survey revealed these interesting data:
(Image Source: Investopedia)
Only 23% to 38% invest their money, and almost half of their income stays in checking and saving accounts. However, affluent millennials prioritize investment over paying down debt.
When they asked what is the main reason that compels them to invest, retirement stands out as the #1 reason for their investment.
(See the below data)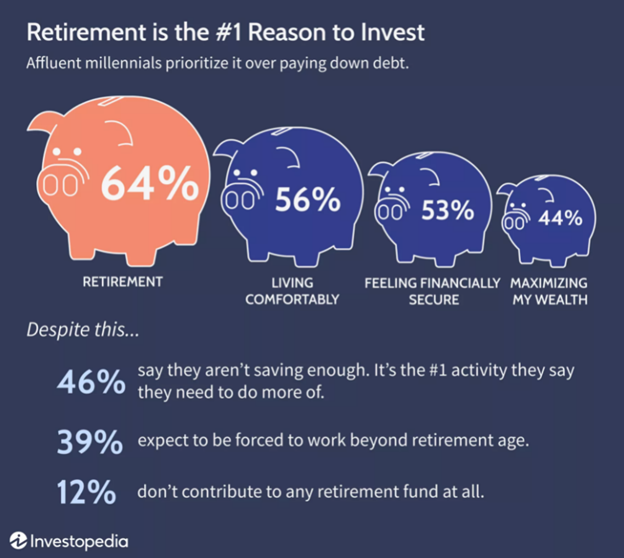 (Source: Investopedia)
You can conclude from this data people don't get easily ready to invest in stock markets or trading due to the risk involved. And this is where investment apps play an influential role.
Public investors generally feel intimidating, risky, overwhelmed, and complicated while investing in stock markets and trading.
In this case, investment apps not only work as a reliable investment platform but also guide investors to make smart and responsible decisions.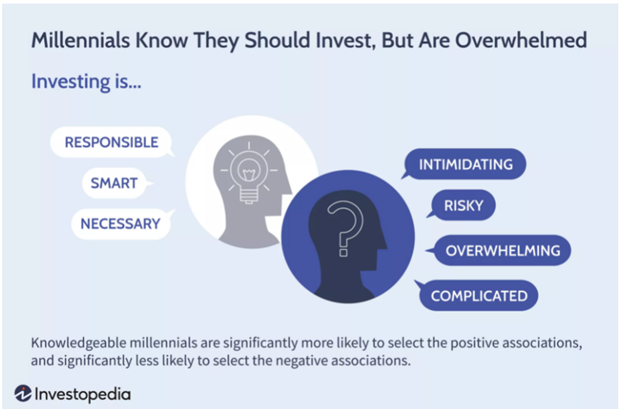 Investopedia reported that these apps make millennials knowledgeable and help them to choose the positive factors, and consequently, they are less likely to select the negative factors.
Invest app focused on educating investors and as result, it guided newbies and beginner investors who lack sufficient knowledge on investing. This app was initially launched for iOS users, but after its impressive success, they created another version for Android users.
iPhone application development company India also claims their most clients' first approach for iOS as most Apple users are always ready to pay for premium services.
These are the reasons why stockbrokers, traders, and investment companies are focusing on developing investment apps, stock apps, trading apps, and other financial apps for public investors who are looking for a reliable and easier platform for saving and investment.
There are many famous investments apps in the market which are helping public investors earn better profits than ever, and eventually generating millions of app revenues.
Top investment apps in 2021:
TD Ameritrade- Best overall
Invstr – Best for newbies investors
Wealthbase – Best for stock market games
Wealthfront – Best for sophisticated portfolio management
Acorns – Best for saving
Betterment – Best for socially responsible investing
Robinhood – Best for smooth trading
Webull – Best low-cost trading
Stockpile – Best for gifting stock
These best stock trading apps are able to earn millions of revenues because of the features they offer to users. But these apps are able to provide attractive investment services due to these features.
Important Features of Investment app That You Must Include:
1. Authorization
If you are inviting users to invest, you must take care of their security, right? The easiest thing to do is enable whatever bio authentication is supported by smartphones such as FaceID, Touch ID, or their counterparts on Android phones.
Besides this, you would also need to gather some user data to create the investor profile in the back end. For this, you need to allow users to log in with their social media accounts such as Facebook, Google, Apple, etc.
This is something that can help you devise the most efficient tactic for inspiring them to invest more, on a regular basis, etc.
2. Add a Robo-advisor
A Robo-advisor is an app or AI feature that provides users with financial tips produced by algorithms, artificial intelligence, or mathematical formulas.
Robo-advisors take into account user preferences and make investments accordingly. By adding this feature to your app will educate users on making smart investment decisions.
You can choose a ready-made Robo-advisory application and integrate it into the app, or you can also create a Robo-advisor front end and use APIs to tie into an available broker-dealer or technology provider. eSearch Logix can help you develop this feature by integrating AI in mobile app development.
3. Offer human help in the app
While the Robo-advisor feature will enable your investment app to provide valuable information to users quickly, at the same time it is important to offer human help in the app as well. Financial apps such as Round and Personal Capital provide users with human-backed investment advice.
Similar to Robo-advisor, your app will ask users to fill out initial questionnaires to collect data on a user's investment goals, history, and risk tolerance. As soon as the questionnaire is processed, you can offer professional assistance to users from a live person.
4. API Integration
API is the most crucial part of financial app development. It enables your app to provide live information related to stock markets and trading around the world or in a particular market. There are many third-party APIs that can be integrated with your investment or stock trading app such as:
PLAID API
E*TRADE API
Marketstack
Intrinio
You need to ensure your developer read the document and usage policy during the API development process so that your app may not face any issue in the future. Read our expert's guide on API development to make the app fully functional.
5. Trading feature
The primary goal of any mobile investment application is its capability to easily sell or buy a stock or other financial instrument.
Users want to see a line or candlestick chart for a given stock with useful information including read about the company and other additional relevant info. For example, Robinhood app shows:
News & the latest research reports
Other stocks people often purchase
Company details
Earning
Analyst ratings
This kind of information will help your users to make better investment decisions.
6. Enable Newsfeed and social feed
The newsfeed feature provides users with digestible news which are relevant to their stock choices. In addition, you can add a social feed with other users' comments, investment portfolios, etc., to give a social investing experience to users.
7. Provide search and filters
Users want a robust mobile application that streamlines the search process for stocks and trading information. A decent search feature will show take into account that the user might be looking for a stock by a company name, not necessarily by their symbol: Apple for AAPL.
8. Additional cool features
Most investment apps usually don't have these features, but if you can add them to your app it can make a big impact.
Widgets for the home screen
Dividend reinvestment
Retirement account
Fractional shares
Limit/stop/trailing stop orders
Regulatory Compliance in Financial Services
If you are developing a stock trading app for US investors, you need to register as a broker-dealer. Normally, it comes with red tape related to regulatory compliance. If you are planning to allow your app users to invest in and trade stocks, you need to comply:
Know Your Customer (KYC)
Anti-Money Laundering (AML)
Customer Identification Programs (CIP)
Broker-dealers are regulated by the U.S. Securities and Exchange Commission (SEC) and self-regulatory organizations, such as FINRA (Financial Industry Regulatory Authority).
You may find this process tiring, which is true of course; we recommend you get a lawyer before you start registering your company as a trading platform. For the US, a company needs to take the following legal steps to own a trading platform:
Register with the SEC
Become a member of FINRA
Become a member of Securities Investor Protection Corporation (SIPC)
Comply with a state's stockbroker regulations
As you can see, owning a stock trading platform requires plenty of paperwork, but fortunately, you can continue these regulations-related matters along with your stock trading app development.
Now you have an idea of what does it take to make a fully functional investment app. It's time to put it into action and implement it.
How to Develop an Investment App?
Step 1: Choose a Platform Web vs Mobile App
A company who is willing to offer investment services to people can develop either or both a trading platform (Web or mobile app).
A platform is a piece of software running on the back end, aggregating stock market data along with user transactions and everything else which happens in the stock app.
Generally, you could build an investment app working directly with stock market data via APIs while considering these essential elements:
You will have to code the logic every time whenever you need to cover a new platform (iOS, iPadOS, macOS, Android, etc.)
Every time there is an update, you will need to spend the same amount of time to update each platform
Testing a live environment will be a nightmare
Therefore, if you want to develop an investment app, you should know what you will be working on an investing platform in effect.
Step 2: Mobile-First Approach in Design
Since you are going to provide a mobile trading solution, it is highly important to focus on the mobile-first design approach.
It means the app's UI/UX design should address typical mobile user requirements, i.e., glimpse view, micro-interactions, limited screen space, instead of trying to adjust numerous features often found in web-based stock trading applications. You can check out for trending UI/UX designs 2021 which could best suit your app.
Even if your goal is to make your online trading platform mobile, it is vital to keep the mobile-first design perspective in view. We always recommend conducting a rapid prototype and then run a user testing session to discover how well a mobile app performs.
Remember, there are people out there for whom your trading platform is just a market graph app. That is why you need to build a dynamic mobile app design that meets users' expectations.
Step 3: Integrate Stock Market APIs
The next big thing when you develop an investment app is to enable the app with a stock market data feed to provide a real-time stock update, indices, commodities, currencies, etc.
Here are some of the most popular stock market APIs:
Zirra
Yahoo Finance
Bloomberg Market and Financial News
Step 4: Testing
Do you know Robinhood had faced three times outage last year? The app stopped working for 15 minutes. This could happen with the world's most famous stock trading app, so what to say for those who are entering the market first time.
We are trying to say your app should be always active and constantly provide the same experience even when there is high traffic. Financial technology doesn't tolerate bugs or any kind of technical error because people can lose money.
In last year's outage case, Robinhood app had to compensate from their own pocket to make peace with customers.
Therefore, testing a mobile app for UX and algorithm uses is one thing; and focusing testing to recognize the number of transactions your trading system can process per second without any error, is another thing.
To ensure your investment app provides error-free trading or investment services, you can use special tools like Sailfish that is particularly designed for exchange, MTF, and broker system testing.
Step 5: Mobile app maintenance
Mobile app development is a continuous process. You can't relax after launching the app; in fact, the real journey of the app begins when development ends.
Your investment app will regularly provide information and service to users. In this case, you will need to ensure the app is working fine across all the time and to keep your app up-to-date for different reasons:
To figure out bugs caused by updates in third-party APIs
To update the app with new features
To support the latest features of new mobile operating system version
It means you will have to bear the cost to maintain the app. Read our separate blog which will guide you on how to save money on mobile app maintenance.
Conclusion
This is how investment apps are becoming rich and making investors rich. Millennials are ready to invest in your app if you educate them with interactive features and useful resources. By using these steps, many apps have reached the top of the market.
If you are looking to build an investment app, collaborate with eSearch Logix who has helped various global clients for providing better investment services through a mobile app.
Book a call with our developer team and you will get the perfect solution for your app project.