Game app is the only thing in the world that has the power to make its users go crazy and its owner rich.
If you turn the time reel a few years back, you will find the gaming industry has remained 100% immune despite various ups and downs in the market.
Honor of Kings is the world's highest-grossing gaming app which has earned a whopping sum of 11.7 Billion USD since its initial release in 2015.
Monster Strike is Japan's most famous game app that has made 9.6 Billion USD since 2013.
Clash of Clans, one of the world's famous games, has earned 7 Billion USD since 2012. And the recent sensation in the gaming industry, PUBG broke all the records by generating 6.2 Billion USD in just 4 years of its initial release in 2017.
So why ultimately game apps make billions of money?
Research tells that people have a psychological tendency to get excited and when they find it they instantly get involved in this.
This is the secret why among all kinds of apps game apps mostly get hit in the market and generate billions of money while making the app owner millionaire or billionaire.
If you want to make people excited and earn billions, in this blog post, we would tell you how to create an exciting game app that makes you rich.
So why wait? Let the game started…
Current Mobile Game Development Market
As new technologies such as augmented reality, virtual reality, artificial intelligence, machine learning, and wearable technology are supporting game, the gaming industry is able to break more records than ever.
People spend their most of time playing mobile games on their smartphones than using social media apps because they find game apps as the best way to relieve their stress and keep their mood healthy and fun.
Top Grossing Mobile Games in the USA 2021: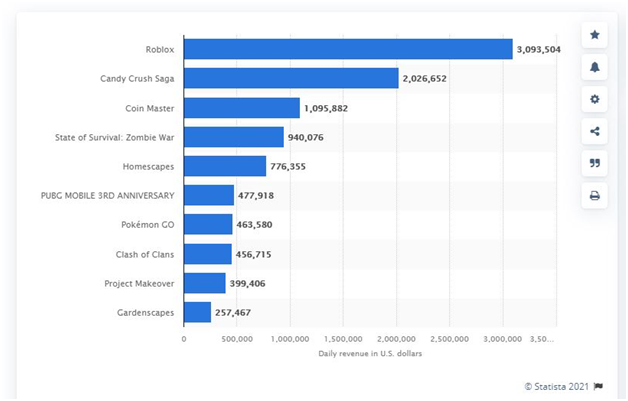 (Source: Statista)
Especially in the Covid-19 pandemic, Google Play Store reported the highest number of app downloads in the game app category. You will be amazed to know that gaming industry revenue was approx. $77 Billion USD in 2020, which is alone greater than the revenue of the music and film industry combined. So interestingly, the game industry is bigger than Hollywood.
If you see the latest report from Sensor Tower, the top-grossing mobile game worldwide for 2021 was PUBG Mobile from Tencent with $270 million in player spending. Honor of Kings from Tencent remained the second highest-grossing game app globally with $256.2 million in player spending.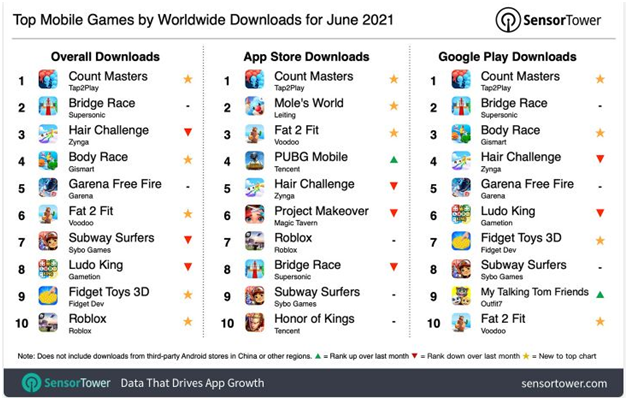 (Source: SensorTower)
The biggest market for global mobile game revenue in 2021 was the USA, which made around $2.1 Billion USD. Japan stood in the second position with 20.8 percent revenue followed by China.
According to a study by Mordor intelligence, the mobile game market is projected to grow with a CAGR of 12.6% during the forecast period, 2021-2026. Particularly Asian and western countries reported faster growth speeds.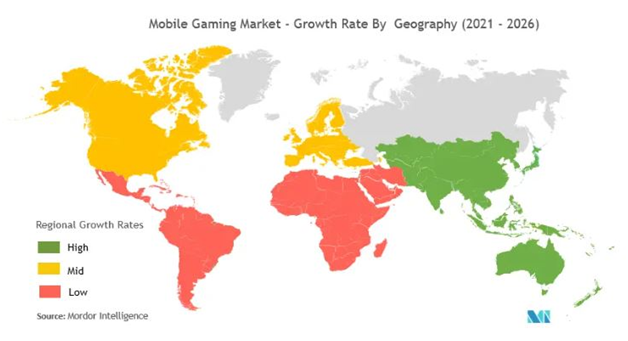 And the way people are demanding more thrilling and exciting game apps, the competition is also catching up the fire among the biggest players in mobile game development.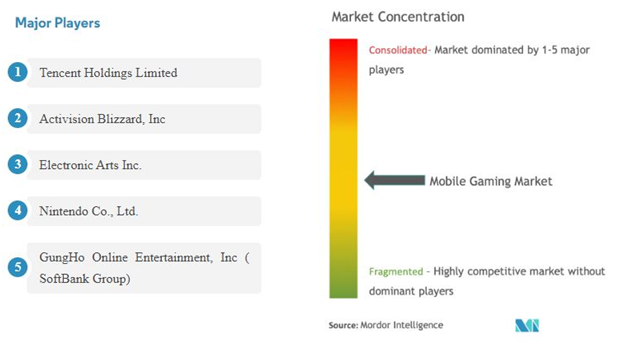 On Android platform, which has the maximum number of users in the world, famous games such as Among Us, Arena of Valor, Crossy Road, Downwell, Hitman Go have remained entertaining mobile games for a long time and boosting the Android game development scope.
What Features Make A Blockbuster Game App?
After analyzing the above data, you will find mobile games which provide people with thrilling, adventurous, fighting, or exciting gaming experience are most successful with bigger revenues. PUBG, Clash of Clans, Pokémon Go, Candy Crush, solely focus on how to make people feel thrilled that people find it hard to leave the game.
There are many properties such as user interface, storyline, sound effects, graphics, difficulty level make a game app engaging and additive.
For mobile game developers, it becomes competitive and challenging to create a game app that gives amazing gaming experiences to users.
eSearch Logix deeply analyzed the features of top game apps and what we found was totally impressive. Their app features are based on modern technology that helps them to create a movie-like experience.
Take a look at the features that make a Blockbuster Game App:
High-quality visual graphics
Interesting storyline and characters
Fast application response time
Great sound effects
Easy-to-follow tutorials
Difficult challenges and constant updates
Dynamic UI/UX
Highly engaging gaming experience
What Do You Need For Mobile Game Development?
Game app is complex software that requires different development tools, game engines, programming, and designing. Before you start the development process, here are the things you need for mobile game development:
A Computer: It needs to install the game engine on your PC or Mac. But keep in mind there are some game engines that are only meant for PC or Mac only specifically.
Smartphone: You need smartphone to test the game app on your desired platform either Android or iOS device.
A developer account: You need to create a developer account on Google Play Console to publish your Android app on the Google Play Store (if it is Android app) and on the Apple Store for iOS game apps.
Game Assets: You have to decide at first which type of game app you are going to develop either 2D or 3D? You can discover a ton of free resources online or even purchased premium resources from a reliable mobile game development company.
Game Engine: This is the main tool for game app development. From creating UI/UX to graphics and sound effects to building characteristics, game engine is a software that helps you develop an advanced level game with features like game templates, visual scripting, coding, and additional great effects. There are many popular game engines to choose from such as:
a. Unreal Engine
b. Amazon Lumberyard
c. Unity
d. Godot
e. GameMaker Studio 2
ff. BuildBox
How to Develop an Exciting Game App
Step 1: Come Up with an Amazing Game Idea
An idea is the pillar of your entire game. Famous games have great gaming concepts that relate to a movie-like storyline. That is why you have to come up with an amazing game idea that stands out as unique.
Think out-of-the-box what modern gamers like the most. However, your idea should also be simple in nature; it is not essential to dig deep like science fiction or fantasy world. But your idea should be engaging your target audience. Consider what modern gamers like the most in a mobile game, their age &interests, etc.
For example, Candy Crush is a top version of the matching-grid game. This game is meant for all age groups of people who just want to use their basic logical reasoning and enjoy the traditional concept in a mobile application. This idea makes Candy Crush a fantastic game in the market just with a simple playing concept.
Can you think like this?
Just do it, even if you can't.
Step 2: Create a Movie-like Story
Have you ever thought why people love watching movies?
People actually relate themselves with the characters and the storyline of the movie evokes similar emotions into the audience.
Call of Duty, God of War, Red Dead Redemption, Uncharted, are the greatest video games that won their audience's heart from the compelling story.
Therefore, you should brainstorm to create a storyline for your game app that resembles a movie-like experience to the gamers. If your game has a good story, users will feel engaged to the next levels of the game to participate in the next episode of the story.
Clash of Clans is among the most downloaded mobile games on the Internet. People highly love this game due to its strategic gaming concept that keeps the players curious to know what will happen next. Each character has a certain specialty and style.
Subway Surfer and Temple Run are similar examples that keep the players engaged for hours and hours just because of the temptation of what would come next.
However, these games don't have the movie-like concepts what Call of Duty, God of War have. But the core principle remains the same. Create a movie-like gaming concept either through a story of characters or the graphics elements.
Just build up a story by asking yourself a simple question- what is the motive of your game, or character, or what does the character want to achieve in the game?
Step 3: Build up Your Game Concept
Once you are ready with your game idea and its story, you need to build up the concept or set up the rules of your game. Here are those elements for that you need to define the concept:
Game Mechanics- Mechanics stands for the rules of the game. What steps the player is required to take to achieve the target of the game.
Settings- It primarily includes two parts- story and ascetics. The story involves the game environment as to what has happened and what will happen next. Ascetics include the feel of the game such as graphics, user experience, and sounds.
Technology- Which devices or mobile operating systems can support your game and what features your game incorporates
Interaction- It is about how users will interact with your game or the character? How will they control the character or other elements? How will the game use the screen space?
Step 4: Select the Type of Game App
Gaming has tons of different genres to target any audience or interest of a particular age group. You should select the type of game app as per your gaming concept.
Different types of apps involve different development times and budgets, thus, you have to choose the suitable app development methodology based on the app complexity and your budget.
For example, in a 3D shooting or fighting game, you have to set up a gaming environment for MOBA (Multiplayer Online Battle Arena) and FPS (First-Person Shooters). This type of gaming app requires large coding. Here are the prominent types of game apps:
Action
Adventure
Arcade
Battle Royale
Casual
Card
Role-Playing
MOBA – Multiplayer Online Battle Arena
Puzzle
Racing
Strategy
Sports
Trivia
Word
Step 5: Choose a Mobile OS Platform
This is an important question. Android has the highest number of users and iOS has comparatively less number of users but premium users who are always ready to pay a high price for great mobile games.
Well, this depends on your mobile app development budget. If you want to target large size of the audience, you should develop a mobile game for Android. If you want to target premium users you should focus on iOS game development. There are many game development tools that support cross-platform development.
Step 6: Choose the Best Mobile Game Engine
Game engine is the primary software tool that you require to develop a mobile game. Every game engine comes with common development features with some additional functionality to allow developers to build dynamic applications.
You should choose the platform which gives more benefits and useful features for your game.
There are various mobile game engines such as Unity 3D for 2D and 3D game development, CryEngine for the artistic environments, Corona SDK for simplicity, Buildbox for easy drag and drop features, and so on.
For backend development, you should programming languages like C++, C#, Node.js, and Python.
Step 7: Create a Stunning Game Design
Attraction is the first key to engage the audience. Users will automatically love to play your game if it has attractive graphics and scenes. This is called game design that involves several elements like the characters, environment, textures, objects, etc.
The motive of game design is to define how your game will look. If it is a 2D game, it is easy to design. But your app is 3D, your UX designers will have to put a lot of effort into designing your game app. There are some key factors to consider in your game UX design such as:
How the design will engage players for long hours?
How the design inspires gamers to play for the next levels?
Make sure your developers or mobile app designers know the principles of UX design so that they create a stunning and dynamic design for your game.
Step 8: Add Special Elements to Make Your Game App Additive
Addiction is the secret ingredient that makes a game app insanely successful and invokes players to play for long hours, days, months, and even years.
If you read the reports from Android application development company India, they suggest there are some psychological triggers that keep users hooked to the game such as HD graphics, real-time user interactions, and virtual battle exposure like the real world.
By adding these special elements to your game app has higher chance to become addictive for users. So try to give such special elements to make your game app addictive though:
Personalizing the experience through user behavior
The illusion of control and loss aversion
Multitasking and division of attention
Engaging the conscious and subconscious minds
Creating the "Hook" Sequence
Giving a real-life experience
Including contextual feedback loops
Encouraging collaboration
Adding Fear Of Missing Out (FOMO)
Rewarding the users
Gamify Spending to Boost Repeat Sales
Step 9: Build a Game Wireframe
Wireframe allows mobile app developers to review the overall functioning of the app. It is basically a prototype that gives a clear view of how your app will perform, look and feel.
Game app development is a time and money-consuming process; therefore, it is essential to develop a prototype of your app to have a quick overall look. This wireframe will be a visual guide on how your app will function and how the transaction will happen from one section to another.
Step 10: Develop Your Game App
Once you passed the prototype, you can start developing the actual game. As game app requires heavy coding and software engineering, you should better hire the best mobile game development company who is specialized in this particular field.
Here, you should pay attention to choosing the best technology stack for mobile app development that could support in future updates.
Step 11: Perform a Rigorous QA & Testing
If game gives enormous profits it also takes enormous building efforts. You can't just develop and launch the game in the market.
The game app will represent your brand or company in the market; thus, you should make sure that your application is the perfect edition that your app developers follow the best practices in mobile app quality assurance to ensure your app gives flawless and seamless game experience to users.
Perform multiple mobile app testing for your game by launching and playing the beta version on different devices. Through this testing process, you will detect various bugs hidden in your game app, We recommend you to pick up the top mobile app testing tools for Android & iOS to save your time and development costs.
Step 12: Create an App Monetization Strategy
Game app is the only app category that generates millions and billions of money. Therefore, its app monetization model should be designed in a way that boosts player's interests.
Top-grossing gaming apps mostly have freemium and in-app purchase models. However, you should choose the app monetization model which suits best to your app. Here are the most commonly used models:
In-app purchase
Premium Version Games
Advertisements
Paid Mobile Games
Real money game
Step 13: Launch Your Game App
Congrats! Now you are good to launch your game app after going through such a long app development process. Before mobile app launching, ensure your game meets all the guidelines and standards of respective app stores and user privacy policy.
Once your QA team gives the final approval, you can land in the gaming arena with great marketing campaigns.
The Final Words
Gaming industry is an immortal industry. But the secret key to how a game app can make you rich lies in how exciting is your game to play.
People always look for an adventurous and thrilling experience at their fingertips and only gaming apps have such power to hook people constantly.
Even a simple game like Angry Birds can earn millions for you. You just need to ensure high-quality story, the characters, and the graphics that fully revolutionizes the gaming experience.
As people today continue to stay at home due to ongoing lockdowns, people are seeking more entertaining ways to connect and talk to their friends and families. And gaming apps give all these incredible benefits.
We hope this guide helps you in your game development. Now it's your time to take action.
Do You Have a Fascinating Game Concept To Build?
There are now 2.2 billion mobile gamers all over the world and 203 million of them are in the US alone who play more than 10+ times a week.
21% of Android and 25% of iOS apps downloaded are from the app category only. So you can imagine how big the scope of gaming is.
But it takes great game conceptualization and usage of modern technology to develop a game app that can earn millions or billions making you rich.
eSearch Logix here provides advanced mobile game development services for modern companies who want to make people feel excited and generate high revenues.
Book a Free Consultation and Discuss Your Idea Now