Mobile SEO can bring millions of traffic to your websites and boost your sales.
By the time you will finish reading this blog, whatever you know about mobile SEO could be wrong.
Search engine optimization (SEO) is a proven and fundamental building block of digital marketing. No business can think of expanding their online business without implementing an SEO strategy in their marketing plans.
Whether you are a small brick-and-mortar business looking for local leads or a multinational corporation to expand brand exposure, optimizing your website for organic search is the soul of online marketing.
When Google algorithm switched from desktop-first to "mobile-first" it started a new trend of creating mobile-friendly websites that provides a great user experience.
This is because of the smartphone revolution which has dramatically transformed both people's lives and businesses. As per the latest market report, nearly 55 percent of global website traffic is generated by mobile devices, which is consistent in the figure.
There are 5.27 billion unique smartphone users in the world today, and it is expected to reach 7.4 billion by 2026. Users are more likely to purchase anything from a business that is first available at their fingertips on their smartphone. It means the future of SEO is 'Mobile SEO'.
I hope you won't be surprised now to read how mobile can generate millions of traffic to your website, right?
If you have a website and looking to increase huge traffic, in this blog post, I will share the best Mobile SEO tips that will help you generate millions of traffic to your website.
So if you want to give your website a new power, don't miss reading this blog post.
What is Mobile SEO?
Mobile Search Engine Optimization (Mobile SEO) is the process of enhancing the user experience of visitors who access your website from mobile devices, such as smartphones and tablets.
Mobile SEO involves optimizing your website and making it mobile-friendly to ensure performance and visibility in search engine result pages (SERPs).
The goal of mobile SEO is to make sure your website:
Loads fast
Allows mobile users to navigate the website easily
Loads properly on different mobile devices
Is easily understandable by search engines
Has compatible content which does not compel readers to zoom
Offers value to smartphone users
Why Your Website Needs Mobile SEO?
In short, the number of mobile searches is BOOMING. Here are few top reasons why it is high time to pay attention to mobile search engine optimization.
Reason #1: Mobile Search is Exploding
There was a time when desktop searches used to rule all over the Internet, but now after the emergence of smartphone age, mobile searches have exceeded desktop searches and it is not showing any sign of slowing down.
According to market reports,
Nearly 55 percent of global website traffic is driven by mobile devices.
On average, ranking in position #1 on mobile brings you 27.7 percent of the clicks, whereas ranking in position #1 on desktop gets you 19.3percent of the clicks. (SEO Clarity 2021)
87 percent of smartphone users depend on Google search daily (Go-Globe)
Voice searches now account for 20% of the quires on smartphones. (Search Engine Land)
All of these statistics mean that most of your target audience is likely to use mobile devices to find your website or product.
Reason #2: Google Values Mobile Searches More Than Desktop
Google is the king of all SEO results. It controls the businesses by controlling the SEO practices. That is why it is critical to understand how Google sees mobile searches.
Earlier, a mix of desktop and mobile versions of any web page's content was used by Google's index to display results for a searcher's query, with the desktop version being the primary source.
Searching from mobile device → Mobile results displayed
Searching from a desktop or laptop → Desktop results displayed
But now, the scenario has changed
Only the mobile version of your website content is used, which means:
Searching from mobile device → Mobile results displayed
Searching from a desktop or laptop → Mobile results displayed
This is Google's Mobile-First Index, which clearly emphasizes the importance of mobile SEO.
Reason #3: Mobile Search Drives More Sales
As mobile searches growing exponentially and people feel more comfortable buying products on their smartphones, eCommerce is now turning into mCommerce massively. Google's research shows that mobile searches for product reviews have increased by 35% over two years.
As per Deloitte's U.S. mobile consumer survey results, Americans check their smartphone 47 times every day and these users are buying on mobile too.
SEO Company in India reports that by 2021, the world's mCommerce sales will make up for 53.9% of all eCommerce sales, and mobile commerce sales are expected to reach $6.56 trillion in 2021, which is 22.3% more than 2020.
If you see a report from eMarketer.com, the retail mCommerce sales worldwide, both phone usage and mobile commerce sales will grow tremendously in the upcoming time.
Reason #4: Mobile SEO Affects Voice Search
Mobile search engine optimization also supports you in creating a future-proof SEO strategy. This is because voice search is becoming a trend, in fact, a daily habit of users.
These days, voice search doesn't happen just on smartphones and tablets, but on home assistance devices such as Amazon's Alexa, Google Home Assistant. People like to use such devices to find relevant content quickly from anywhere.
These voice assistants are empowered with artificial intelligence which provides benefits to both consumers and companies. With the use of AI, businesses are automating their SEO practices to drive more traffic.
For more knowledge, read our blog: How AI Can Bring Surprising Success to your SEO?
And using mobile SEO to optimize your website content for voice search now could give a better competitive advantage, as 62% of businesses haven't even started doing this yet.
It is obviously not all businesses get a huge amount of mobile traffic, but the point we have mentioned here is to show you the current opportunity, so it makes sense to check before you dive into it.
Best Mobile SEO Tips That Will Generate Millions of Traffic to Your Website
Ensure Your Website Is Mobile Friendly
Before you start implementing mobile SEO techniques, the first step is to confirm your website is mobile-friendly or not. For this, Google offers tools that you can use to check how much your website is mobile-friendly. One of them is Mobile Usability Test, which is offered in Google Search Console.
Start by putting your site URL, then click "search", then Google will show you whether mobile users have trouble using your site.
You can also utilize Google Console to check for crawl errors. Search engines index your website by crawling. If they can't crawl, then your web content doesn't appear on the search engine result pages (SERPs).
Don't forget, your mobile users should be able to see the same content your desktop users do. It means you need to make sure that all content formats including videos, images, and text, are crawlable and indexable by search engines.
Google adds relevant badges to images to enable searchers to uncover images. You can use alt attributes for your images to help searchers relevant for mobile users.
Improve Your Website Loading Speed
Speed is what everyone is looking for in the modern age. In mobile SEO, speed has become a critical mobile search ranking factor after the Google speed update 2018. This update affected the SEO performance of websites which loaded slowly.
However, Google insisted that search intent may supersede speed, so it is not as highly essential to rank for relevant content, even if the site is slow.
Even though your web page will rank for relevant and useful content, improving your website loading speed could be a smart move. Especially in those cases, when you are giving a common topic or product to users which your competitors also have.
So if your site fails to load quickly, there is no doubt they will move immediately to your competitor's or another website. After all, users are humans, they hate waiting for long. To ensure how fast your web page loads on mobile devices, use Test My Site-a a tool offered by Google, to check mobile speed limits.
If you find not good results in the test, here I am suggesting the best practices to improve page loading speed:
Compress and optimize images
Minimize CSS, HTML, and JavaScript files
Use asynchronous loading for JavaScript and CSS files
Minimize HTTP requests
Upgrade your web hosting
Enable browser caching
Remove unnecessary plugins
Enable Gzip compression
Make Your Website Mobile Responsive
A responsive design enables your website to dynamically adapt to the changes of different versions of smartphones and mobile devices. With responsive design, your site page's layout and content respond to each individual user easily and be friendly.
The site will change either based on text or content and will eliminate or enlarge text depending on-screen type. To optimize your web design for mobile responsiveness:
Scale images for mobile users
Have an easy-to-view navigation menu specifically for mobile users
Avoid pop-ups that cover the whole screen
Make your calls-to-action (CTAs) visible
Shorten your text
By implementing the above tips will make your site more mobile responsive. And if you still think mobile responsive design is not much important, you should read what a Google developer says:
Mobile responsive design-
Make it easy for website visitors to link and share your content using one URL
Reduces common industry mistakes which affect the performance of mobile websites
Prevents users from redirection and decreases load time errors.
Make it easy to maintain different pages if they have same content
Provide Consistent User Experience (UX)
User experience is the most influential factor among all mobile SEO practices. If you fail to get the nerve what your visitors want from your website, people won't stick around long enough and are less interested to subscribe to your email marketing list or grab your lead magnet.
User experience is major responsible for high bounce rate. As per Stone Temple Consulting, the mobile bounce rate is usually higher than desktop one. This is because visitors want multiple things at once. Therefore, your website should focus on providing great user experience. You can do it by:
1. Offering Consistent Experience across All Channels
UX only cares for good experience no matter which device is being used. Today's customer journey is not a straight line. Many consumers will use one channel to start a transaction and finish on another. They sometimes explore products on their smartphones but order them from the laptop or desktop to quickly fill out the forms and other details.
Thus, you need to make sure your users are able to access both your mobile and desktop versions easily. They must be able to perform different actions and finish transactions smoothly across multiple devices.
2. Making Your Content Amazingly Easy to Read on Smartphones
Smartphones are coming with great features and large screen sizes which give advantages to websites to present content in an effective way. Users like to read, but not to read for long time.
If your website is able to show content which is amazingly easy to read on smartphones, you will have better chance to engage the users. How much your website content is easy to read depends on its design as well. If you know these 7 Principles of Mobile Website Design you will be able To Attract Smartphone Users
Fully review the options and data displayed on the pages, leaving only what is essential. Use smart menus to hide information and settings which are only required for certain cases and try to showcase what your users need on each page or screen. Always keep the appropriate space between the clickable elements.
3. Giving Fast Access
Check the number of steps of clicks necessary for your users to reach your website's contents and functions and try to reduce this journey as far as possible.
Online visitors are always in a hurry, so avoid intermediate pages between contents and decrease the need for typing.
Besides this, to make your content more readable
Use short paragraphs (1-2 liners per Para)
Use at least 14px font size
Go with a line length between 50-60 characters
Make sure there are tons of contrast between text and background so that it makes it easy for people to see text.
Optimize Content for Mobile
We all are living in a world where people can think of going outside without smartphone. Even beyond this, people use smartphones for almost everything possible from exploring products to conducting research. There are 4.80 billion people around the world who use the Internet in July 2021-which is almost 61 percent of the global total population.
If you see fresh data of We Are Social and HootSuite, you will find half of the entire world population has access to mobile phones and the Internet. So, it simply means sooner or later, everyone will have the ability to use the Internet and smartphones too.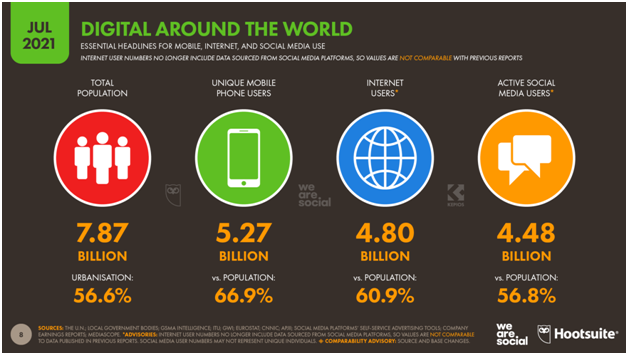 That is why mobile SEO plays a futuristic role to ensure the full success of your website. Here you should keep in mind to optimize your content for mobile users if you wish to take advantage of the growing technology.
To implement it, implement these mobile content optimization practices:
Adopt a mobile-first mindset
Sentences should be brief and paragraphs short
Write short, eye-catching headlines
Make your Meta description short and incorporate relevant keywords
Break up content into chunks
Use keywords to optimize content
Integrate video and visual content
Optimize Content for Local Search
The search phrase "near me" has become widely popular on Google. People are using location-based services on their smartphones more than ever to quickly find what they want at the moment. Especially in eCommerce marketing, the phrase or search variants of "to buy", or can I buy" have grown by 500%.
Near me searches have drastically increased on mobile devices for certain items like restaurants near me, hospitals near me, salons near me, web development company near me, etc.
Hence, if your business deals with such services which go through local search, your mobile website must accommodate these searches by giving consumers exactly what they want.
Optimizing your site for local SEO will channelize your business to appear for relevant local search queries. To enable your website, appear for local search, you have to head over to Google My Business and complete your listing including the following information:
Business name
Business address
Company location
Category
Website URL
Contact number
Once you are done with verification, you can further optimize your listing by:
Adding services, you offer
Adding additional contact numbers
Listing opening hours
Adding categories
Uploading high-quality company's images
Now It's Your Turn
It's done! With these mobile SEO techniques, you can change your website into a mobile website that users love. You just have to work on improving the user experience on your website and visitors will be able to easily navigate your site, find relevant & quality content which meets their needs, and you will witness millions of traffic coming to your site.
Remember, your audience is always busy, on the go, and living in a digitally driven world, therefore, mobile searchers will continue to grow exponentially. If your website is empowered with mobile-friendly design which responds to the level of different mobile searchers, your brand will easily achieve the business goals.
I hope you enjoyed reading this blog post. Now, it's your turn.
What your company is doing to make your website ready for mobile SEO?
Or do you want to share your thoughts on this post?
Either way, I am excited to hear your valuable words. Just write in the comment box, or
Schedule a free consultation if you want to directly speak to our SEO experts.