Android app development is such a big market that is emerging as the most demanding industry. As smartphones have become an essential part of people's life to survive in the modern competitive world it is compelling businesses to build more Android apps.
There are many apps on Google Play Store which are empowering people with more capability. Data says that the number of mobile app users is greater than the number of users from the desktop.
Android is considered the king of the mobile world because Android OS owns 80% of users globally and overall 60% of tablet users. There are currently over 2.5 billion active Android users around the world.
Today almost everyone is using Android app for different purposes such as gaming, online shopping, banking, news, sports, and so on. Android since its inception has been the biggest player in the mobile industry but with the massive explosion of smartphone production and mobile app development, the demand for better Android apps is catching the fire.
With the emergence of 5G, smartwatches, wearable technology, IoT, and smartphones, people are looking for more advanced Android apps. This is the main reason when it comes to create a mobile app for business, Android stands out as the best option for startups, entrepreneurs, enterprises, and business ventures.
And latest market statistics reveal good news for those who are looking to establish their business through Android apps in the near future.
Today, in this blog, eSearch Logix will tell you why 2022 is the best time for businesses to invest. Whether you want to grow your existing business or set up a new business through a mobile app, Android is growing faster than ever and businesses should not miss investing if they wish to make high profits in the upcoming time.
Android App Development Market Statistics In 2021
Android OS is the most popular and widely used mobile operating system. As most smartphones come with Android OS support, it gets the maximum number of users than any mobile OS.
Top Android app development company in India suggests that Android will take over the 90% market in the near future due to its better affordability and easy functionality. If you see the latest report from GS Statcounter on Mobile Operating System Market Share Worldwide (Sept 2020 - Sept 2021), Android occupies the maximum share among iOS, Windows, OS X.
Mobile operating systems' market share worldwide from (January 2012- June 2021) by Statista
However, iOS has the maximum Mobile Operating System Market Share in the United States of America followed by Android.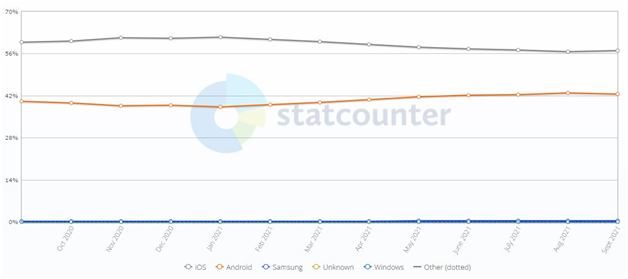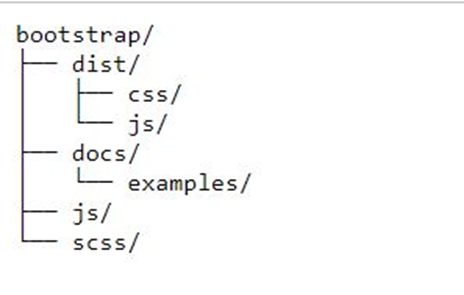 On the other side, there is fierce competition in the smartphone industry. Samsung, Xiaomi, Huawei, Oppo, Vivo, Realme, Motorola, all these big brands produce Android smartphones and create more scope for apps. See in the below picture which Android smartphone manufacturing company ranks high?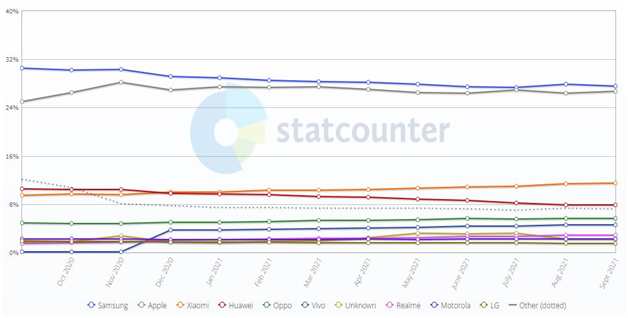 So you can conclude from this fresh data how Android has been ruling the mobile OS market since its release. As new technology is emerging in the form of IoT, wearable technology, artificial intelligence, machine learning, the demand for Android application development is growing significantly.
New technology trends are giving taking Android apps to the next level. In 2022, the market size is expected to grow with good CAGR.
From travel to entertainment and healthcare to finance, every Android mobile app category is getting a jump in revenue and market share. Especially game app development where the business scope always remains better than any app category, businesses can make the best of these opportunities.
Why Businesses Should More Invest In Android App Development In 2022
1. Android Has Amazing Graphics Support
Graphic design in Android app development offers a broad range of options than any other mobile OS platform. Best Android app developers heavily rely on Android studio for developing good Android applications that support HD graphic content and videos.
Android is extremely dynamic in its development methodology which gives many benefits to Game app developers in creating intuitive and sophisticated graphic design. Whether it is native app or hybrid app, Android has better graphics support for all types of mobile apps.
2. Android Popularity Is Growing
Android has already built its great reputation in the mobile world. The biggest advantage to develop an Android mobile app is that its development cost is highly affordable for startups, entrepreneurs, and small businesses. Therefore, with increasing usage of Android smartphones all around the world its popularity is also growing year by year.
Seeing the growing demand for Android apps, Google has developed a dedicated operating system for its smartwatches called wear OS which primarily supports all Android apps. As more devices will come into the market, the need for Android apps for Google wear OS will be high in the upcoming years.
3. Android Development Cost Will Be More Affordable
Mobile app development cost is the biggest challenge for every business owner. Businesses always want to develop high-performing mobile applications but due to constraining in budget and resources, they have to compromise with their dream mobile app.
But as the production of Android smartphones, Android Wear OS devices, Fitness bands, and other mobile devices is increasing, the requirement for Android apps that support the functionality of these devices is projected to grow rapidly in 2022.
Best mobile app development companies are now offering app development services at highly competitive and affordable prices. If you are a startup company or an aspiring entrepreneur who is looking to start your own business through a mobile app and budget is the main hurdle, then Android is a more affordable choice to make your dream mobile app.
4. Wearable Devices Will Need More Mobile Apps
Wearable device is creating its own space in the modern world. People are enthusiastically using smartwatches and fitness in their day-to-day activities. Smartwatch is already boosting the demand for wearable apps due to its wide usage by people globally.
This versatile usage of wearable devices is creating the business scope for mobile apps which can help users in their multiple activities. The wearable device market is estimated to exceed 45% in 2022 which will eventually bring more business scope for Wearable app developers.
Not only this, as the demand for wearable usage will increase the requirement for integration other mobile apps into the device will also increase including APIs and third-party plugins. This is creating pressure to develop a Wearable App for Android Wear OS and Apple WatchOS that support all types of integrations and different functionality.
So what's new for businesses?
You will have more chances for entering the mobile app development market in various segments and better occasion for investment.
5. IoT Will Boost Mobile App Development
IoT (Internet of Things) is the new emerging technology that is gradually expanding its legs in the consumer market. The core ability of IoT is to connect every electronic device with the Internet and then operate the same device with smartphone. And of course, to execute this user will need a dedicated mobile application.
This is where businesses can enter into the IoT app development by creating apps for IoT devices. IoT has started making every object smart; smart home, smart office, smart refrigerator, smart washing machine, smart camera, and so on.
Many industry leaders predict that IoT will boost mobile app development because the way IoT is growing the need for Android apps that enable users to operate the IoT devices from smartphones will also increase. Hence, it is opening more opportunities for business people.
6. Building Apps for Foldable Smartphones
Samsung created a buzz in the market by introducing its foldable OLED display smartphones. Foldable smartphones are considered to be a new phase of the smartphone revolution. Google already launched its official foldable support for Android phones in 2018, using its Screen continuity API.
Apart from this, many iconic brands like Spotify, Microsoft office, Twitter, Facebook, Amazon Prime Video have started optimizing their Android apps for foldable devices. It is creating a new market scope for businesses. They can invest in mobile app development to build apps that not only provide flexible functionality to foldable smartphones but also offer great features to engage users.
Video streaming and gaming apps can reap the maximum advantages from foldable devices by simply developing the adjustable screen size with better control features. Apps for foldable devices is one of the top mobile app development trends in 2021 itself. Thus, building apps for foldable smartphones will have great demand in the upcoming time.
7. Artificial Intelligence and Machine Learning Will Upgrade Android
AI & ML have been the biggest game changer in the mobile app development industry. Companies are now able to create advanced features which weren't possible a few years ago. AI is so powerful that it has alone made various mobile apps go viral overnight. FaceApp, TikTok are the best examples which created sensation through their unique features.
This is what makes AI & ML special because it empowers businesses to create something exceptional into a mobile app. Due to its advanced capability, the use of AI in mobile app development is increasing tremendously.
Apple, at the WWDC 2019, welcomed CoreML 3- the latest version of its machine learning model framework designed to help iOS developers build AI apps.
So how businesses can benefit from AI in Android app development?
Android is famous for its high-quality features. And AI & ML empowers developers to build mobile apps with advanced functionality and provide an amazing user experience. So businesses should more invest in AI app development for Android to create something incredible for users.
Siri, Google Assistant, Alexa, Fyle, DataBot are the famous AI apps in the market which have made users' life easier than before. Users love a mobile app when it solves their problem and AI can help you create problem-solving app efficiently.
8. Augmented Reality and Virtual Reality Will Create Sensation
AR & VR are transforming industries. From eCommerce to manufacturing, healthcare to entertainment, augmented reality and virtual reality are providing innovative solutions that no one could have ever imagined.
IKEA Place is a famous eCommerce AR app which helps users to visualize the furniture in their selected areas. Pokémon Go is a famous AR game app which had gained huge popularity due to its innovative gaming concept.
On another side, virtual reality apps solve the industry's current problems by improving their traditional business operations. AR & VR is enabling mobile app developers to build next-gen applications. So where is the opportunity for businesses?
Android is a versatile device and has the greatest multitasking ability. With the integration of AR& VR, businesses can develop AR & VR Apps which can not only help companies to scale up their business growth but also create an amazing mobile app for Android users who want fun and creativity.
Pokemon Go, Google Earth VR, LittlStar – VR Video Network, Snapchat, Fulldive VR are the famous AR & VR apps which are creating a buzz in the market and giving lessons to startups and entrepreneurs on how using this technology one can develop innovative solutions for users.
Conclusion: Take Action Under a Mature Leadership To Succeed
Android offers great business opportunities with its wide user base and dynamic development methodology. And the way different technologies and trends are evolving; the scope for Android apps that solve users' problems and industry requirements will be higher in 2022.
As a business owner, you shouldn't stay behind in thinking too much or taking so much time as to what to develop or not. The above trends and market statistics clearly prove that the upcoming time of Android app development is beneficial for businesses who want to set up their new venture or improve their existing one.
But to become successful in the Android market, you need experienced leadership. eSearch Logix is a decade-old Android app development company in India who has empowered numerous business organizations and companies around the world by providing the best Android app solutions.
We have certified developers, software engineers, highly-qualified quality analysts, and product engineers who utilize modern technology to build an Android app.
Interested?
Book a Free Online Meeting Now and Talk To Our Experts