1992 was a historical year. The multinational technology giant, IBM (International Business Machines) Corporation premiered a revolutionary device called 'IBM Simon' to the world.
A device which was the part of Personal Digital Assistant (PDA) for communication, and this is how the first Smartphone was born.
Today, after over two decades, in the 21st century, smartphone has become a marketplace going beyond a communication device.
And it is not surprising that electronic commerce or e-commerce retail sales to reach $4.9 trillion by 2021 due to smartphones.
But the current market has gone one step ahead to mobile and began mobile commerce revolution, and it seems not slowing down. People now prefer their smartphones for online shopping, checking product reviews, ordering online, and more, competing e-commerce revenue scale alone.
So, is this a sign that mobile commerce will overtake e-commerce? Or are we going to see smartphone becoming entirely a big marketplace?
In this blog, I will discuss some emerging trends that are showing the bright future of m-commerce industry and how your smartphone will play an important role in this. 
What is mobile commerce?
Mobile commerce is the buying and selling process of goods and services through mobile devices, tablets, and smartphones.
What is the difference between e-commerce and m-commerce?
E-commerce refers to electronic commerce that involves the same buying and selling process, but through computer system like laptop, desktop PCs, using the Internet. The only difference is the use of particular device for business activity.
Let's see what data shows about Mobile Commerce.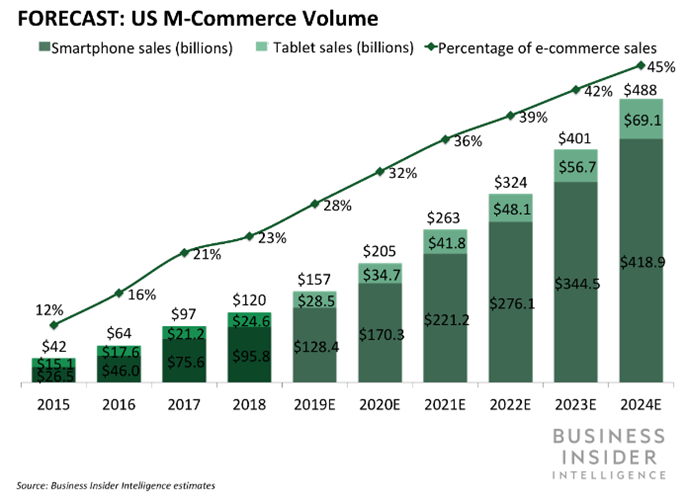 Data Source: Business Insider
E-commerce has been rising for the last few years, but it may not be the next platform for online shopping as m-commerce continues to become more famous.
Top social media channels such as Facebook, Pinterest, and Twitter have already introduced "buy buttons" that allows shoppers to purchase. Seeing to this, many companies have turned their social media channels into an online commerce platform and developing mobile commerce apps which are user-friendly and give a smooth mobile shopping experience to users.
As smartphone manufacturing companies are coming up with more advanced features in their smartphones, users are now getting highly dependable on their mobile devices for doing anything if it goes through the Internet.
Mobile commerce is predicted to grow tremendously in the coming years and to acquire a large portion of total U.S. retail sales.
According to BI Intelligence (Business Insider's internal research body), it is forecasted that mobile commerce to grow at a 25.5% compound annual growth rate (CAGR) from 2019 and will hit $488.0 billion by 2024. This is 44% of total e-commerce revenue.
And there is only one major device which is responsible for mobile commerce's rapid growth-Smartphone.
It's amazing, isn't it?
But don't stop here. See the further data that tells how mobile commerce has already started its success.
49% of customers use their smartphones for online shopping.
61% of Americans rely on smartphones in stores to compare the prices.
63% of US consumers use their mobile devices to access coupons or discounts for in-store purchases.
21% of global web visitors added items to their carts on mobile, while 11.25 % on tablet and 11.63% on desktop in 2020.
32 % of conversion rate in the retail business is observed because of the use of mobile devices.
$2.3 trillion of m-commerce transaction were made in 2019.
Data Source: Mordor Intelligence 2020
All of these are evident that mobile commerce will overtake e-commerce if it continues to grow like this.
What are the reasons that are making mobile commerce more powerful than e-commerce?
1. Better UI/UX
E-commerce platforms provide good shopping experience to the users. Mobile apps use thumb-friendly screen size and optimized design which are easy-to-use and seamless in usage. Therefore, mobile commerce apps give a better user experience.
Mobile apps have a faster load speed. They can effortlessly use eye-catching in-app animations and transitions to engage the users. This is generally not convenient on websites as they have slower response time and usually end up consuming unnecessary data and time to load such animation or media.
Mobile shoppers love using applications and tools that give them enhanced UI/UX. In this way, mobile app UI/UX is helping m-commerce apps to rise.
2. Faster Load Time
Most shopping apps use data caching. This makes the app load and work faster than websites. It also helps in keeping the customer engaged because it allows the app to work smoothly when the user is offline.
For example, Uber's PWA app works rapidly because it loads in few milliseconds in good internet connectivity.
3. Easy Onboarding
Once a user installs an app, it only takes a couple of seconds to log in. With social sign-in features like Google/Facebook accounts, it becomes easy to onboard and get into the app.
4. Personalization
Research shows that customers like the products or services which entertain them personally or prioritize their value. In this context, m-commerce app provides personalized and interactive features to customers or users. This motivates the users to view offers and make a successful purchase.
5. Push Notification
E-commerce platforms use newsletters to send promotional offers to their customers or users. It has been observed that users don't pay much attention to the commercial letters or offers. Therefore, email market sometimes encounters a low open rate.
But mobile apps make it easier and simpler to users to see anything quickly and briefly. By sending push notification to the users, store owners can keep their users updated and engaged with the latest offers, new arrivals, festive sales, discounts and more.
Push notifications play an important role in reminding users about their unprocessed carts. It helps in reducing the cart abandonment rate.
6. Integration with additional features
Mobile apps use the in-built features of mobile device or smartphone to add more features to the app. For example, shopping apps use the device camera and microphone for capturing images and voice-command to search for products on the app.
7. Boost Branding
M-commerce apps empower retail store owners to build brand identity and boost their online presence through ASO (App store optimization), SEO, social media marketing, and app marketing.
Users start trusting more when a company uses modern technology in its services. Having a mobile app for your store or business is the sign of reliability which helps in building loyal customers.
8. Increase Conversion & Revenue
Mobile app has helped many enterprises and business grow by improving their conversion rates and funnel revenue. This is because mobile apps are highly accessible all across devices and OS, which allows users to choose the products and services as per their convenient time and place.
Therefore, we are seeing almost all business companies putting banners on their websites for their app installation. Companies lure the customers to install their app by providing special discount or offer using their app.
9. Easy Launching
Building an e-commerce platform takes more time than developing m-commerce app. There are many e-commerce development frameworks including Shopify, Magento, OpenCart, PrestaShop, WooCommerce, etc. which have their extensions in the market. These platforms can easily build & launch an online shopping app for your business or retail store.
Currently, many businesses have their mobile apps on both platforms Google Play Store and Apple App Store. They are now replacing their mobile websites with a dedicated mobile commerce PWA app. All these efforts enable them to easily launch their apps.
"The adoption rate of mobile is twice that of the internet, three times that of social media, and 10 times faster than PCs."- Emma Crowe, Somo
Smartphone is a portable device that comes with great features. Users are using their mobile devices more promptly for almost every task possible.
This revolutionary smartphone usage has helped to give rise to mobile commerce trends that may change the whole business scenario in near future. So take a look over those trends below:
Mobile Commerce Trends 2021
Smart Personalization
Smartphone users like brands that give them a personalized experience. In 2021, this m-commerce trend will get a booster. With smart personalization, businesses will be able to focus more upon customer behavioral aspect. This trend will help companies and brands establishing more value by valuing their customers.
Better Load Speed
Today users have two or more shopping apps on their smartphone. This gives them an option to abandon the app which doesn't work fast. If any app takes more than 3 seconds to load, chances are there users may quit the app and move to another app.
There are many shopping apps available on the app store, so it is essential to offer an application that loads faster and saves users' time. If your e-commerce app or mobile commerce app loads quickly, it will bring positive outcomes for sure.
Omnichannel experience
We all are living in the age of digital revolution. Businesses are now giving Omnichannel customer experience while treating customers in multiple channels via social media platforms, chatbots, etc.
This Omnichannel approach enables customers to start their experience with your brand and continue it to another channel seamlessly.
According to the Kinsta Reports, the following channels are mostly used by U.S. entrepreneurs to sell products and services:
Social media (Facebook 25%, Twitter and Instagram 15%)
Brick-and mortar shop (56%)
Website (34%)
Amazon (16%)
Pop-up shops, markets, and events (16%)
Others (Etsy, Alibaba, eBay 22%
This multi-channel communication has helped businesses in creating great brand visibility. But at the same time, it is also making difficult to meet users' expectation of delivering a seamless experience. Why?
Because it distracts them from one to another communication channel.
Therefore, the idea of Omnichannel customer experience will be a trend in the upcoming time. This system will help retailers and business owners to integrate both online and offline marketing channels into a single circle. And as a result, users will get a seamless shopping experience throughout a common communication channel.
AR (Augmented Reality)
Augmented reality has already started its dominance in the mobile commerce trends. It changes the way we shop online and in-store.
AR technology enables products/services to see in a more realistic way. For example, try out any product before buying, checking product arrangement in real places, etc.
Cryptocurrency payment
Cryptocurrency payment gateways allow business entities to receive transactions of Cryptocurrency as payment from customers in the exchange for any goods or services.
This payment system accepts payment from any country using blockchain-based cryptocurrency. Brands will show more interest in offering blockchain wallets in the upcoming time. This will not only give a push to the development of mobile wallets but also enhance mobile commerce transactions.
Voice Search
The rise of voice-based assistants such as Alexa, Siri, and Google Assistant has given additional power to mobile commerce.
Such voice assistant allows users to search or command easily through their smartphone. Reports tell that 27% of the online global population is utilizing voice search on their smartphones, which is over a third of the U.S. population (111.8 million people)
This technology has not only started a new trend in the market but also motivating users to use smartphones for any search queries. Voice search is leveraging mobile commerce and becoming a major part of mobile commerce. It is expected to reach $40 billion by the year 2022.
Conclusion
E-commerce and mobile commerce both are witnessing an exponential growth of buying patterns & interests. But overall if we conclude the point, whether it is B2C or B2B, mobile commerce is on the verge of overtaking e-commerce, and its dominance over e-commerce could be already seen in some areas.
This is obvious as mobile has the features to bring innovative and engaging solutions that customers love to use and enjoy.
Therefore, you shouldn't feel doubt to invest in mobile commerce app development for your online business.
As the former Marketing President of Coca-Cola, Wendy Clark quotes-
"If your plans don't include mobile, your plans are not finished."-Wendy Clark, Coca-Cola
So, want to develop a mobile app for your online business? Just explore eSearch Logix and then decide how much you are interested to create something exceptional with us.