Over 31 million active users, 658,000 average daily orders, 300,000 restaurants available in 4000 U.S. and 2,200 cities worldwide.
These are astonishing statistics of GrubHub's food delivery app that may look crazy to those entrepreneurs and emerging startups who are looking to establish their venture in the food industry.
The massive success of Grubhub signifies why food delivery app development is capturing startup venture's attention. To be specific, it is the main reason you searched for how the GrubHub app become successful in the U.S. food industry.
Today in this blog, you will know what made GrubHub America's top food delivery app and understand GrubHub's strategy that you as an aspiring entrepreneur, startup, or venture can learn.
What is GrubHub?
GrubHub is the USA's leading food delivery company which was formed in 2004 by Matt Maloney and Mike Evans. It allows users to order food from their smartphone from any place within their city. In 2013, it merged with Seamless (another popular online food ordering app), which also contributed to enhancing the popularity of the company.
How does GrubHub Work?
There are mainly three key players in the food delivery business; consumers, restaurants, and couriers or deliveryman. For each one, GrubHub created an integrated systematic strategy that makes the whole process seamless and flawless. To understand accurately, let's see:
How GrubHub works for Consumers?
The users can browse several dishes, cuisines, and restaurant chains available on the portal by entering their zip code. Once users find or decide what they want to eat, they place an order. A user can also use the delivery service without having an account or logging into the account.
After placing the order, users just need to wait for their order to deliver to their doorstep. GrubHub allows users to make payments online or in cash. In a nutshell, the GrubHub app is quite intuitive and user-friendly. If you look at the customer journey on GrubHub, it will look like this:
Let a user
Browse or search into the app.
Place on order.
Pay in cash or online.
Wait for the delivery & enjoy the food once it reaches their doorstep.
How GrubHub Works for Restaurants?
When a user makes an order, at the same time, the restaurant is notified simultaneously. The restaurant then confirms the order as per the availability of the food. After confirming the order, they proceed to prepare the food and keep it ready for the courier or deliveryman to come to pick it up for delivery. The restaurant journey on GrubHub looks like:
Let restaurant
Bing! New order is here!
Confirm the order
Prepare and pack
Hand it over for the delivery
How GrubHub Works for Couriers/Deliveryman?
As soon as the restaurant accepts an order, the nearest courier guy gets the notification with the order pickup information. He accepts the delivery request and heads directly to the restaurant. The courier guy picks up the already cooked and packed order and moves straight to the customer's location. The deliveryman journey on the GrubHub looks like this:
New order delivery request pops up
Pick up the order from the restaurant
Deliver it to the customer and may get the tip as well
GrubHub charges restaurants a commission per order, which is based on some percentage. It also earns revenue when any customer places an order with the app.
In the case of restaurants, they get the chance to opt for a commission slab that should either be at par with the base charge or above it. The higher the commission, the better the connectivity would be for customers or diners.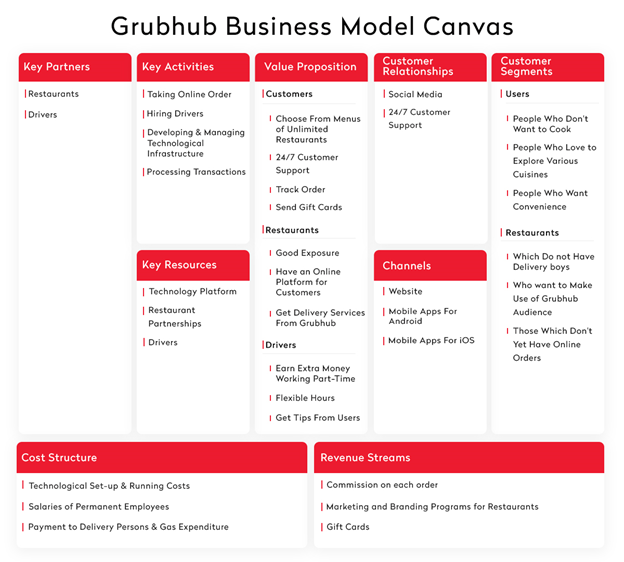 (Image source: Apurple)
So you can see how the GrubHub app makes the entire process smooth and hassle-free for everyone. And this is the result that supported their business model so effectively while focusing on specific requirements strategically.
GrubHub's success alone has contributed significantly to enhancing the online food delivery business. With a global revenue figure amounting to $122.740 billion, the food industry is expected to grow with a CAGR of 32% by 2021. Such massive growth is increasing the demand for food delivery apps.
Mobile App Development company suggests businesses are looking for more on-demand apps to deliver their services quickly and efficiently.
Now as you are familiar with this excellent working model, the time has come to decode the key lessons from GrubHub's strategy that made it America's top food delivery app. If you are an entrepreneur or startups, pay attention to the below points:
What Made GrubHub Top Food Delivery App?
1. IDEATION: Your Idea Should Solve a Problem
Matt Maloney & Mike Evans created the GrubHub app and launched it in 2004 after experiencing the lack of a streamlined food ordering service, which wouldn't require them to call restaurants to ask for a menu and then use their credit cards & address to place the order, which is a highly time-consuming process itself.
You might be surprised to know before the idea of developing GrubHub, they were working on a rental real estate search website, and instantly they realized that why not there can be a similar service for restaurants. So they started collecting menus across Chicago, and Mike wrote the initial site code, and the GrubHub app was live in Chicago.
Important lesson for Startups
The first key takeaway here is pretty straightforward- develop something new to solve a problem, or upgrade the solution which already exists; changing phone call ordering into online ordering through a mobile application.
Today, there are many emerging technologies such as artificial intelligence, machine learning, augmented reality that can help startups and business ventures to develop innovative app concepts. If you are curious to know about such interesting app ideas, just read our 9 AI App Ideas for Startups & SMEs That Will Make You Successful in the Market.
The second key takeaway is that startups and entrepreneurs must learn cross usage of growth agents across industries, which is what Matt & Mike did with the idea of online real estate listing.
2. EXECUTION: Be Flexible
Matt & Mike didn't start initially with the commission-based (now a time-tested one) revenue model for GrubHub; instead, they offered restaurants a premium placement on their marketplace website and charged some amount for a certain period.
But soon when they realized that this idea wasn't resonating with restaurants; so they brainstormed a little & decided to execute a commission-based model (10% commission on each order), and since then this method is proven effective for the company.
Important lesson for startups
The revenue model plays a major role in deciding the fate of a startup company. Entrepreneurs must thoroughly understand the market to pick the most fitting revenue model for their business concept based on a mobile app. You should dig deep to choose which is the best app monetization model for your app depending on your business goals.
3. EXPANSION: Reach To Outside Customers
GrubHub entered the San Francisco market in October 2007, and their bold step of a self-funded expansion was undoubtedly truly inspiring. However, how they approached it brings a different lesson altogether for startups.
In the beginning stage, the GrugHub team was aware of the lack of funds, but also because they were not locals there like in the case of Chicago. And online food delivery, which is a hyperlocal business, needs extensive local market knowledge for the right execution.
So they hired a location manager for San Francisco, who physically used to go to restaurants to sign them up for GrubHub, and one-by-one the company's network started growing from there.
Important lesson for startups
Every market is distinct and requires specific dealings; so what works in your native market may not work necessarily in others. Therefore, before entering a market, startups must research and analyze the unique nature of the new markets and try to implement their expansion plan accordingly. Even it needs to go to every shop, just go, that's it.
If you study the report from iPhone app development companies they say Apple has the highest number of premium users who are always ready to pay if your mobile app is giving them a flawless user experience and solve their problems. It means your mobile app should meet user's expectations.
4. MARKETING: Do What is Required
One of the top reasons behind GrubHub's successful expansion to San Francisco was its dedicated effort in offline marketing. It was the time of 2004 when the mobile app development industry was evolving and not much advanced what we see today.
They understood the reality and focus on current needs and therefore they moved for offline marketing such as posters, banners at public places where their prime target audience is bound to pass through.
GrubHub also kept a keen eye on its competitors, especially Seamless (now a partner), which was doing pretty well in New York in the early 2010s. GrubHub closely analyzed Seamless's efforts towards product enhancement & marketing and implemented similar strategies for its own growth.
Important lesson for startups
Don't follow the rat race. Understand the nature of your business and decide which type of marketing method will be most effective. Additionally, spend considerable time & effort in doing competitor reach, understand how they are progressing, and map out better product enhancement & marketing strategies for yourself.
5. TECHNOLOGY: Update Your Mobile App
Since its launch in 2004, GrubHub constantly worked towards improving its technology to provide a better customer experience. In the GrubHub app, users find a variety of features that allow them to use the app smoothly, and eventually, the app continues to engage the users for a long time.
Besides users, the GrubHub app also allowed restaurants to update menus, food listings, business hours, etc. This app never hesitated to adopt emerging technologies that aided the company's growth.
Today, eCommerce companies are using the powerful features of AR app to boost their sales. Thus, companies who stay behind in adopting technology may have to lose potential customers.
Important lesson for startups
It is highly essential to upgrade your app with the latest technology. Startups should select the Best Technology Stacks for Mobile App Development that gives a better user experience in a long time. Your mobile app should be flexible to embrace customer's requirements and then you should analyze how the latest technological advancements can be used to solve those needs in a satisfactory manner.
6. CUSTOMER SUPPORT: Focus on Customer Experience
The success of the eCommerce business relies on how fast shipping is. GrubHub and other food ordering & delivery platforms have to deal with customers who expect their orders to deliver within the same hour or similar.
To ensure food delivery in 60 minutes, GrubHub has hundreds of customer care executives at their Chicago headquarters & automation tools to manage orders & delivery across the USA.
If the order isn't confirmed within 5 minutes or if it is not out for delivery in 20 minutes - the company proactively sees what's wrong and fixes it to make sure the customer experience isn't hampered.
Important lesson for startups
The primary key to the success of a business is to deliver a delightful experience to customers. If your mobile app requires an additional team to provide better support to every single customer, don't hesitate to invest in improving customer service. For instance, you can integrate AI in mobile app development to provide automated customer support like ChatBot, IVR system, etc.
Conclusion
All the success that the GrubHub app has achieved over the years is mainly because of its dynamic approach towards its users. From ideation to execution, every step of the company is a key lesson for every entrepreneur & business enthusiast.
GrubHub simply teaches how moving ahead step by step and constantly improving the mobile app features and services focused on providing a great customer experience is the key to make your startup idea successful.
And eSearch is here to join your startup vision if you also have a similar app project in mind. We are a reputed food delivery app development company in India. Our team is equipped with highly experienced developers and technologists who can deliver a perfect solution for your startup venture.
Want to speak with our developers? Just write your words in the below comment box and will get back to you in 24hours.